Assessing and quantifying reaction to content and advertising on social media has been limited to the fuzzy capabilities of "sentiment analysis" tools that capture only generic positive and negative attitudes. Now, Viacom believes it's found the perfect tool to do better. Media conglomerate Velocity's marketing and creative content division teamed with tech startup Canvs, whose database of 4 million words and phrases — including millennial slang and social media shorthand — falls into 56 emotional categories.
Variety reports that, beginning with the 2015 MTV Video Music Awards, Viacom tested the Canvs system for several months, Viacom is now updating its Echo Social Graph product to include Canvs' emotional analysis. Doing so, the company will be able to deliver real-time insights to marketing partners about their campaigns across Twitter, Facebook, Tumblr, YouTube and Instagram.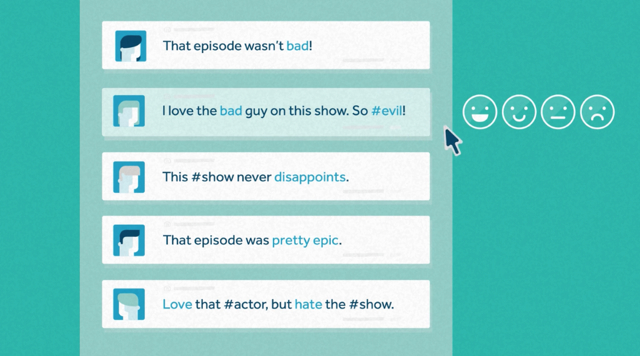 "One component that we didn't have fully fleshed out was sentiment — we knew it was fraught with a lot of issues; it's a hard thing to analyze," said Viacom Velocity executive Lydia Daly. "It's as much an art as a science. The test has proven to us that this works, down to the exact tweet."
Canvs receives its Twitter and Facebook data from Nielsen; Nielsen gathers tweets about TV programs three hours before, during and three hours after an episode's initial broadcast and has a partnership with Facebook to track social data about TV shows. Canvs' 30 customers include Sony Pictures Television, StarcomMediaVest Group, NBCUniversal, CAA and UTA.
Canvs founder/chief executive Jared Feldman says his company's tool can find "love" expressed in 30,000 different ways on social media. Its database accounts for deliberate misspellings and jargon ("bae" and "on fleek") and can interpret words with double meanings, such as "sick." The categories include "trippy," "awkward," "boring," "enough said," "goosebumps," "guilty pleasure" and "mindblown."
"Traditional sentiment analysis of good/bad/indifferent doesn't adhere to emotional constructs," said Feldman. "We are trying to capture a wider range of emotions, and what we found was there needs to be a human involved in the (analysis) process at some point."
New York-based Canvs, formed in mid-2014, just closed $5.6 million in a Series A financing round led by KEC Ventures with participation from Rubicon Ventures, Gary Vaynerchuk and BRaVe Ventures, Social Starts and Milestone Venture Partners.
Topics:
Advertising
,
Brave Ventures
,
CAA
,
Canvs
,
Database
,
Echo Social Graph
,
Facebook
,
Gary Vaynerchuk
,
Instagram
,
Jared Feldman
,
Lydia Daly
,
Milestone Venture Partners
,
Millennial
,
MTV Video Music Awards
,
NBCUniversal
,
Nielsen
,
Rubicon Ventures
,
Sentiment Analysis
,
Social Media
,
Social Starts
,
Sony Pictures Television
,
StarcomMediaVest Group
,
Tumblr
,
TV Shows
,
Twitter
,
UTA
,
Velocity
,
Viacom
,
YouTube