Sony introduced its Spatial Reality Display aimed at professional users in the content creation industry and potential future applications for consumers. The display looks like an ordinary computer monitor but is fixed on a 45-degree recline with a triangular frame and combines a 15.6-inch screen with micro optical lens coating and an eye-tracking camera. The display offers 4K resolution, with the pixels split into two 2K arrays for left and right eyes. It also offers 3D images without glasses.
VentureBeat reports that the ELF-SR1 achieves "sharp, realistic 3D" via "live pupil tracking data and precision alignment of the micro-lenses atop pixels … [for] digital 3D objects that appear to be floating right in front of the screen, and switch perspectives smoothly as your head and eyes move." What Sony is promising, VB adds, is "computer-generated holograms coming to life and being viewable from whatever angle you prefer relative to the display."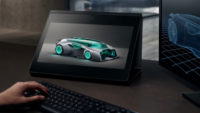 Sony's technology "independently tracks the viewer's pupil positions on three axes — up-down, left-right, and forward-back — on a millisecond level, enabling the screen to dynamically adjust and render what the viewer needs to see in real time." Required to run the technology is a "powerful" Windows PC running Unity or Unreal Engine.
Filmmakers and animators, "automotive product designers, architects, and VR/AR content creators are the initial target users, since "3D models and environments can be previewed in volumetric and realistic ways, enabling creators to adjust lighting, test object positioning, and check camera blocking ahead of finalizing scenes."
The ELF-SR1's specs include "500 nits of brightness, a contrast ratio of 1,400:1, and approximately 100 percent of Adobe RGB in color gamut, with an undisclosed refresh ratio." It also has built-in 2.1-channel speakers and "can be paired with optional accessories such as a Leap Motion gesture controller for input or a Sony-crafted stage-like box to contain content and block ambient light."
The ELF-SR1 Spatial Reality Display, priced at $5,000, will be available November on Sony's website.
A reviewer at The Verge reports that the Spatial Reality Display offers "the magic of stereoscopic 3D … the industry's latest attempt to build a so-called 'holographic display' for the content creators of the world." He notes that Looking Glass sells its version of the technology at $3,000 and "lets multiple people see those images simultaneously" although Sony claims its technology provides "a clearer image than any previous display."
The reviewer says demos of Sony's new display "were mostly pretty impressive."  But, he adds, "the illusion is easy to break" because virtual objects deeper or taller than the virtual diorama "will simply get cut off by the edges of the display." Despite that limitation, the amount of detail available was quite impressive.
With regard to the PC required, Sony recommends "at least an Intel Core i7-9700K and Nvidia GeForce RTX 2070 Super or better."
Topics:
3D
,
4K
,
Adobe
,
Augmented Reality
,
Automotive
,
Eye Tracking
,
Holographic Display
,
Intel Core i7
,
Leap Motion
,
Looking Glass
,
Nvidia GeForce RTX
,
Pupil-Tracking
,
Sony
,
Sony ELF-SR1
,
Spatial Reality Display
,
Stereoscopic 3D
,
Unity
,
Unreal Engine
,
Virtual Reality
,
Volumetric Capture
,
VR Headset
,
Windows PC