To better compete with social platforms such as Facebook and Instagram, Snap Inc. is launching a scripted video initiative called Snap Originals. Teaming with media titans such as Viacom and NBCUniversal to produce original content and syndicate existing shows, Snap aims to ramp up its serialized offerings as Instagram readies its IGTV hub for mobile video. Snap has already been experimenting in this space through partnerships with networks including E!, NBC and ESPN to produce content for its Discover section.
Snap signed a $100 million deal last year with Turner cable channels and Warner Bros. for scripted shows and ad commitments from Time Warner properties.
The new Snap Originals, which will feature episodes running about five minutes and unskippable six-second ads, will be available via Snapchat's mobile app. Content will include genres such as comedy, drama, documentary, horror and suspense.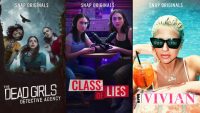 "Viacom committed to creating 10 new shows," reports The Wall Street Journal. "It also agreed to syndicate a minimum of 500 episodes of its networks' shows to the Snapchat audience. NBCUniversal developed one of the six shows included in the initial Snap Originals slate, and also agreed to extend a a content-production commitment with Snap through 2019."
"Over the last two years, our highly engaged and loyal audience has helped to define what mobile content should look like — vertical, hyper-visual and paced in a way that draws you in quickly and makes you want to return," said Nick Bell, VP of content at Snap.
According to Variety, "Snap is making a key change to the Snapchat app to make it easier for viewers to find and watch the programming. Each Snapchat Show now has a dedicated profile page with all available episodes and seasons to watch at once, and there's a new Shows shelf on the Discover page. Before, finding a past episode of a Snapchat Show required searching for it in the app."
Topics:
Advertising
,
Cable TV
,
Development
,
Discover
,
ESPN
,
Facebook
,
IGTV
,
Instagram
,
Licensing
,
Mobile
,
Mobile TV
,
Mobile Video
,
NBC
,
NBCUniversal
,
Nick Bell
,
Original Programming
,
Snap Originals
,
Snapchat
,
Snapchat Shows
,
Social Media
,
Syndication
,
Time Warner
,
Turner
,
Vertical Video
,
Viacom
,
Video
,
Warner Bros.