At Snap's first Digital Content NewFronts presentation, VP of sales for the Americas Peter Naylor announced "The Drop," the platform's first "shoppable" original show, highlighting "exclusive streetwear collabs" from celebrities and designers. It also debuted the Verizon-sponsored "Fake Up," in which make-up artists compete to create optical illusions and greenlit the second season of original series "Driven," about custom cars. Naylor, a former Hulu executive, said his two Gen Z daughters are "big Snapchat users."
Variety reports Naylor said that Snap's "absolute strength with the Gen Z" is "undeniable." "Now is the time for us to come out with this awesome content for a hard-to-reach audience," he said.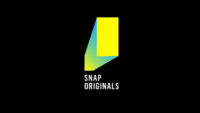 Snapchat's user-base in the U.S. exceeds 100 million people monthly, including 90 percent of those aged 13 to 24, "more than Facebook, Instagram, and Messenger combined." Snapchat also stated that, "it has more U.S. daily active users age 25 and up than Twitter's entire U.S. monetizable daily active user-base across all age groups … and more than half of the U.S.'s Gen Z population has watched at least one Snap Original."
Among other statistics, "45 Discover channels reached a monthly audience of over 15 million unique viewers in the first quarter of 2020, and more than 80 percent of Snapchat's daily viewers watch content on Discover at least three days per week."
In addition to Naylor, chief business officer Jeremi Gorman, chief marketing officer Kenny Mitchell, head of editorial content Rachel Richardson, and director of content Vanessa Guthrie presented at the NewFronts. The company previously revealed multiyear deals with Disney, ESPN, NBCUniversal, ViacomCBS, the NBA and the NFL for its Discover platform, and originals from Kevin Hart, Catherine Hardwicke and Anthony Anderson.
At the Snap Partner Summit, the company said that it's debuting an Action Bar to navigate within Snapchat, "an effort to expose curated content to as broad an audience as possible."
Video commerce platform NTWRK enables "The Drop," which will debut later this year, with new episodes every week. Each episode will "explore the relationship between the designer and celebrity collaborator," and viewers will be able to "swipe up to buy" that item later that day.
Mission Control Media produces "Fake Up," which features augmented-reality filters within the show that let viewers "try on custom Lenses, sponsored by Verizon, that bring the show's makeup illusions to life — and try it out on their own face."
Mobile Marketer notes that social media companies are "expanding their shopping features as they face a growing threat from e-commerce giant Amazon." In particular, "Snap is gradually adding more shopping features, such as its dynamic product ads that were introduced last fall."
According to Nielsen, the company "added 23 percent incremental reach to TV campaigns among advertisers' target demographics on average." For example, "Snapchat helped snack brand Doritos drive an incremental reach of 168 percent among light TV viewers ages 18 to 49 … [and] Bud Light's campaign on Snap Select … delivered 46 percent incremental reach against light TV viewers."
Topics:
Anthony Anderson
,
Catherine Hardwicke
,
Digital Content NewFronts
,
Disney
,
Driven
,
ESPN
,
Facebook
,
Fake Up
,
Gen Z
,
Instagram
,
Jeremi Gorman
,
Kenny Mitchell
,
Kevin Hart
,
Messenger
,
Mission Control Media
,
NBA
,
NBCUniversal
,
NFL
,
Nielsen
,
NTWRK
,
Peter Naylor
,
Rachel Richardson
,
Snap Inc.
,
Snap Originals
,
Snapchat
,
The Drop
,
Twitter
,
Vanessa Guthrie
,
Verizon
,
ViacomCBS