The next ETC Digital Town Square — Breaking Down "Ripple Effect": A Case Study on COVID-19 Safety Protocols, Advanced Workflows and Virtual Production — will be hosted by Equinix and the Entertainment Technology Center@USC on November 19, 1:00-3:30 pm PST. Free and open to the public, the webinar will dive into "Ripple Effect," a recent live-action short produced by ETC that leveraged Safetyviz as well as remote and virtual production to improve safety in the return to media production. Register today for your virtual front row seat to this important webinar.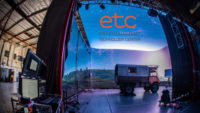 The following is the webinar's agenda:
Safetyviz: A Good Plan Comes Together with the Aid of Technology
Leveraging data to create a COVID-19 contingency plan to keep talent and crew safe.
Defining a Safety Plan: Practical Checklist and Considerations

Software, APIs and Metadata: Pipelines of the Virtual World
Building virtual production pipelines, integrating current tools to support workflow and creating data continuity through API integrations and metadata aggregation.
Onset: Here Today, Remote Tomorrow
How a full virtual production was accomplished while minimizing on-set crew, leveraging next-generation tools and using advanced data management with remote applications.
Into the Cloud We Go…
Navigating the First Mile: Offering cloud-based editorial services on "Ripple Effect."