According to a new Pew Research study, American adults are increasing their use of traditional social networks, while teens are spending more time with messaging services such as Snapchat. Facebook use has leveled off, but Pew points to increases in the use of Instagram, Pinterest, LinkedIn and Twitter. Pew found that adult Facebook users log in at least once per day, while almost half of Instagram users visit daily, and 36 percent of Twitter users visit daily (a drop from 46 percent in 2013, which Twitter refutes).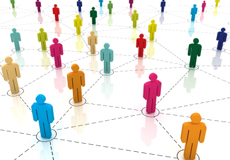 "The Pew survey, conducted in September, found that 52 percent of Internet users regularly logged on to at least two social networks, up from 42 percent in Pew's August 2013 survey," reports The New York Times. "The percentage of adults using Facebook, the most general social network, stayed about the same, at 71 percent of the online population."
However, Pew found increases in the number of people who are branching out to other services, including visual-driven Instagram (which is owned by Facebook) and Pinterest, professional networking tool LinkedIn, and Twitter for "real-time news and information."
Twitter released a statement in response: "Pew's data is so wrong as to be laughable. As we said at our Analyst Day in November, 48 percent of our monthly active users in our top 20 markets use the service daily, and the U.S. is our top market," said Rachel Millner for Twitter.
"What the numbers don't reveal was the time people spent on each service," explains NYT. "Because most social networks generate revenue from advertising, more time on the service means a greater opportunity for visitors to see ads."
Topics:
Ads
,
Advertising
,
Apps
,
Communication
,
Facebook
,
Images
,
Instagram
,
Internet
,
Likes
,
LinkedIn
,
Marketing
,
Messaging
,
Mobile
,
News
,
Online
,
Pew Research
,
Photos
,
Pins
,
Pinterest
,
Rachel Millner
,
Revenue
,
Snapchat
,
Snaps
,
Social Media
,
Social Networks
,
Study
,
Tweets
,
Twitter
,
Video