At CES in Las Vegas, DJI introduced a really well thought out production tool — the new Inspire 1 flying platform. With a transforming aerodynamic shape, the ship moves the landing gear up and away from the camera allowing the operator an unprecedented motion-compensated, unobstructed view of the scene below. The modular camera/gimbal support system can be removed for transport and future upgrades. It can even be used with an accessory hand mount to become an instant steady camera system.
The craft records onboard 4K video at 24-30 fps or 1080p at 24-60 fps, and still photos at 12 megapixels with a 9-element lens on a 1/2.3 inch CMOS sensor with a 94-degree view.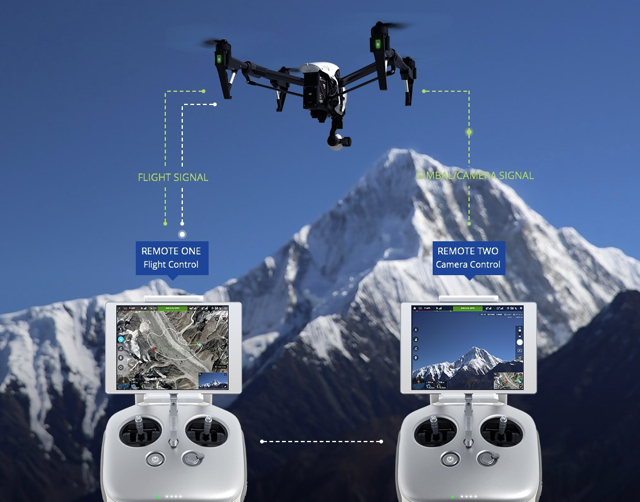 Inspire 1 is capable of auto takeoff and landing to make it easier for new operators and will identify and return to a home position. If two controllers are utilized, the pilot and camera operator functions are independently controlled with 720p screens for direct visual feedback with a 2km range.
It also has the option of using its own Vision Positioning technology to support indoor flight, allowing it to hold a position, stop when the controls are released and respond to commands without GPS availability.
The power system allows you to know exactly when it's time to return home based on the remaining charge. With a few spares at a remote site and an inverter in a vehicle it's possible to have almost continuous flight.
An app is available for phones and tablets to monitor what the camera is seeing and optionally control it. The entire package fits into a provided case, and the hand mount ground-based camera use is a definite plus.
For a more complete overview, take a look on the DJI site to see this $5K-range tool in the air.
Related Stories:
CES: DJI Unveils Handheld Mount for Inspire Drone Camera, ETCentric, 1/7/15
DJI's Inspire 1 Handheld Gimbal Brings its Flying Camera Down to Earth, Engadget, 1/10/15
Topics:
1080p
,
2015 CES
,
4K
,
720p
,
Aerial
,
Camera
,
CEA
,
CMOS
,
Consumer Electronics Show
,
DJI
,
Drone
,
Drone Gimbals
,
Filmmakers
,
Flying Platform
,
Gimbal
,
GPS
,
Inspire 1
,
Las Vegas
,
Monitor
,
Phantom
,
Photography
,
Production
,
Smartphone
,
Tablet
,
Video
,
Vision Positioning