Brands have begun dabbling in the metaverse. Chipotle, Vans and Nike are among those experimenting on Roblox, a platform where users play games, while Verizon staged a stadium game in Fortnite Creative, an affiliate service of the popular Epic game. Meta, the company formerly known as Facebook is said to be encouraging brands to use Instagram's AR filters to get acclimated to the metaverse. There are reports that Apple is preparing its own meta debut, with Taiwan-based analyst Ming-Chi Kuo predicting, presumably based on his supply-chain sources, that Apple plans to unveil an AR wearable late next year.
Rumors of Apple's magic glasses have been buzzing for a while, but now details are beginning to emerge. In a story about how Apple is poised to top Meta's verisimilitude, Quartz writes that "Facebook planted the idea of the metaverse but Apple can actually populate it," citing Kuo's latest TF International Securities report as the source of details on Apple's speculative new wearable, saying it will be VR-capable, "launched in 4Q22" and "equipped with two processors."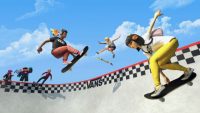 Quartz's basic premise is that Apple is well-positioned to make a splash in the metaverse on the same 10-year timeline Meta's Mark Zuckerberg is targeting, pointing out that while Facebook has almost a decade's head start with Oculus, "its active user base for its metaverse is still relatively small, at less than 10 million users. Between its various successful social networking platforms — Instagram, WhatsApp and Facebook — it is Instagram that gets the majority of Meta's AR focus.
The Wall Street Journal sees legitimacy in the fact that "brands no longer see metaverse-like worlds as abstract gimmicks," and are starting to explore the space. Chipotle did a "boorito" Halloween promotion with Roblox, inviting costumed avatars to win a free burrito. In September Vans launched the "Vans World" virtual skate park with Roblox (pictured above). And Verizon says in February it drew 40 million people in 7 days to a virtual Raymond James stadium in "Fortnite."
"We're starting to talk about the ability of these experiences to become worthy rivals to TV spots running on the Super Bowl," said Verizon marketing chief Diego Scotti.  Of the brand interest overall, WSJ's verdict is: "Their efforts are a sign that advertisers, which have long been hesitant to spend marketing dollars on experimental efforts, are warming to new digital platforms."
But early metaverse pioneer Philip Rosedale — founder of Linden Labs, creator of "Second Life" — is not ready to proclaim the metaverse an idea whose time has come, telling Axios: "I think what we' ve learned — and somewhat with some sadness, given the work that I' ve done… — is that it' s not for everybody, and maybe it's never for everybody."
But Linden Labs, which Rosedale exited in 2010, still maintains the now-18-year-old "Second Life" metaverse, which VentureBeat in September wrote: "has 200,000 daily active users, and it processes more than 345 million annual transactions," paying creators approximately $80.4 million annually.
Related:
SoftBank Bets on Asian Metaverse Platform Selling Digital Gucci, Dior, The Wall Street Journal, 11/30/21
Investors Snap Up Metaverse Real Estate in a Virtual Land Boom, The New York Times, 11/30/21
Holoride Debuts Ride Crypto, the Currency of Its In-Car Metaverse, TechCrunch, 11/30/21
What Can the Metaverse Learn from Second Life?, IEEE Spectrum, 11/29/21
Teaching in the 'Metaverse'? Roblox Looks to Make It a Reality, EducationWeek, 11/29/21
Decentraland's Four-Day Metaverse Festival Is Happening Again Next Year, Business Insider, 11/30/21
Topics:
Advertising
,
Apple
,
Augmented Reality
,
Chipotle
,
Diego Scotti
,
Epic Games
,
Facebook
,
Fortnite
,
Fortnite Creative
,
Gaming
,
Instagram
,
Linden Labs
,
Mark Zuckerberg
,
Meta
,
Metaverse
,
Ming-Chi Kuo
,
Nike
,
Oculus
,
Philip Rosedale
,
Roblox
,
Second Life
,
TF International Securities
,
Vans World
,
Verizon
,
Virtual Reality
,
WhatsApp