Dolby, the top brand in theater sound, is poised to launch its premium, large-format theater experience called Dolby Cinema. As a potential new competitor to today's large-format leader IMAX, Dolby Cinema will feature special design elements such as its Atmos sound, signature entrances to reflect the movie being projected, and the highly anticipated high dynamic range process, which allows for a greater dynamic range of luminosity, resulting in whiter whites and blacker blacks.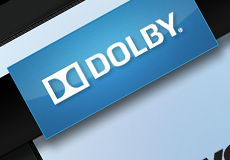 "Many insiders from Hollywood's technology community believe that consumers will see a noticeable difference with HDR, compared with the more widely touted 'Ultra HD' 4K resolution and high frame rates," writes Carolyn Giardina for The Hollywood Reporter.
Dolby's new system will incorporate two Christie 4K laser projectors for enhanced brightness, teamed with proprietary Dolby tech and the company's 3D system for stereo movies.
"Next spring, the system, co-developed with Christie, will introduce updated laser projectors and playback technology that will enable the system to project 'Dolby Vision,' the newest Dolby format, which combines HDR with some proprietary color secret sauce," explains Giardina.
Dolby recently previewed the system for filmmakers and creative execs in Hollywood. The first Dolby Cinema is scheduled to open this month in Eindhoven, Netherlands, with plans for more systems to launch in 2015. Dolby is pursuing studio partners and major films to adopt its system in the U.S.
Dolby's Atmos immersive sound, which debuted in 2012, can now be experienced in about 700 theaters worldwide, while IMAX currently has more than 800 global screens.
"Meanwhile, IMAX also is in the process of launching a laser-projection-based system for its auditoriums," writes Giardina. "And Technicolor has publicly said that it, too, is working on a way to deliver HDR to the cinema using developing laser-projection technology."
Topics:
3D
,
4K
,
Atmos
,
Audio
,
Brightness
,
Christie
,
Dolby
,
Dolby Cinema
,
Dolby Vision
,
Exhibition
,
HDR
,
HFR
,
High Dynamic Range
,
High Frame Rate
,
Hollywood
,
IMAX
,
Large Format
,
Large Screen
,
Laser Projectors
,
Luminance
,
Motion Picture
,
Movie
,
Production
,
Resolution
,
Sound
,
Studio
,
Technicolor
,
Theater
,
Ultra HD