Hulu announced on Wednesday that it would update its streaming video mobile apps to allow users to view entire episodes of certain television shows, even if the users are not premium Hulu Plus subscribers. Emulating its desktop version, the update will feature free episodes with advertisements spliced in. Free shows will first be available for Android, and later for iOS via a redesigned Hulu Plus iPhone and iPad app coming this summer. Hulu Plus now has 6 million subscribers.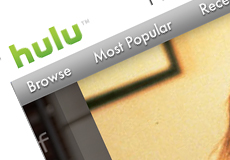 "Currently, Hulu only lets people watch free shows through its website, on a Mac or PC computer," reports The Wall Street Journal. "On mobile devices, Hulu restricts what you can watch to short video clips unless you pay $7.99 a month."
During its upfront presentation, "the network, which last December reported that roughly 50 percent of its then 5 million Hulu Plus subscribers where streaming exclusively on mobile devices, says it has now grown that subscriber base to 6 million," explains TechCrunch. "Around the same time, CEO Mike Hopkins had also said that Hulu would reach $1 billion in revenue in 2013, up from $695 million the year prior."
Hulu is offering three new ad units — an in-stream purchase unit that allows customers to place orders without leaving Hulu (Pizza Hut is the first customer); cross platform interactive ads; and the Hulu 360 Ad, which tailors ads based on a viewer's device.
"One thing that isn't changing for Hulu is how its apps work on set top boxes such as Roku and Apple TV, or gaming consoles such as the Xbox One and PlayStation 4," adds WSJ. "To watch any shows through those Hulu apps, a Hulu Plus subscription is required. No freebies there. Not yet at least."
Topics:
Ad
,
Ad-Supported
,
Advertising
,
Android
,
App
,
Apple
,
Clips
,
Console
,
Cross
,
Desktop
,
Epsiode
,
Free
,
Google
,
Hopkins
,
Hulu
,
Hulu Plus
,
In-Stream
,
Interactive
,
iOS
,
iPad
,
iPhone
,
Journal
,
Mac
,
Mobile
,
Pay
,
PC
,
Phone
,
Pizza Hut
,
PlayStation
,
Premium
,
Program
,
PS4
,
Purchase
,
Revenue
,
Roku
,
Series
,
Show
,
Smartphone
,
Stream
,
Streaming
,
Subscribe
,
Subscriber
,
Tablet
,
Television
,
TV
,
Upfront
,
Video
,
Viewer
,
Wall Street
,
Watch
,
Xbox