That's what ROAM Consulting president Pete Putman asked in his HPA Tech Retreat discussion of the apparently out-of-nowhere rise of 8K. But the presentation's title — "8K: Whoa! How'd We Get There So Quickly?" — was actually misdirection, as Putman showed in great detail how the development, research and plans for 8K go as far back as the 1990s. His advice for those considering a 4K television is that they won't have to wait long to buy an affordable 8K one. (Although many in the audience preferred the purchase of a 4K TV with HDR.) "CES 2019 was full of 8K TV models," he noted.
Putman reported that the first 8K TV to be sold commercially was Samsung's 85-inch Q900R, released in fall 2018 for about $15,000. "A lot of what's driving the push to 8K is due to technical innovation, supply chain management and profitability and marketing hype," he said. "The clues have been there for years."
Japanese broadcaster NHK has been pushing towards 8K since 1995, showing its first 8K sensor in 2006, and the 120 Hz version in 2012. NHK also developed a compact, four-pound 8K camera in 2013.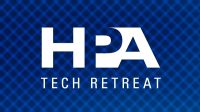 "NHK engineered their entire 8K production chain from scratch," said Putman. "On display side, NHK showed an 8K OLED model. While we were being introduced to Ultra HD and the adoption of 4K TVs ticked up in 2014, NHK continued to develop 8K acquisition, storage, editing and transmission hardware and software." In December 2018, NHK, in collaboration with Eutelsat Communications, launched a satellite enabling the company to offer an 8K TV network.
NHK wasn't alone in pursuing 8K technology; at CES 2012, Sharp showed an 85-inch 8K monitor. That year, NHK tested its 8K sensor technology at the London Olympics. Meanwhile, as Samsung and LG began to bring OLED TVs to market in 2013, the Chinese manufacturers of TV panels found themselves in a position where there was no more profit in making LCD screens.
"That's when they switched to 8K," said Putman, who listed TCL, Foxconn and BOE as companies making 8K screens, with more plants under construction. "The 8K ball is rolling," he added, pointing out 8K cameras from new players such as Hitachi, videowalls and 8K's growing use in medicine and other fields.
There are now 8K cameras or prototypes not just from RED but also Sony, Canon, Hitachi, Panasonic. There's also the 8K Association trade group for the industry sector. "We were all entranced by 4K," said Putman. "But 8K R&D was going on for almost 20 years so it's no coincidence we've reached this inflection point." He noted that each one of the other major leaps, from SD to 720, and 720 to 1080, took seven years.
"4K TV sets are now cheap," he said. "And it's been 6-1/2 years since the first Ultra HDTVs appeared."
"8K is coming whether you think it makes sense or not," concluded Putman. "A lot of the development has been done although lenses will be tricky. Codecs can handle the load, display panel fabs are gearing up; display interfaces aren't fast but will double up, and 8K TVs are very good upscaling engines. " Can 10K or 12K be far behind? "At a certain point, we won't care about the resolution anymore," said Putman.
Topics:
10K
,
12K
,
4K
,
8K
,
8K Association
,
BOE
,
Camera
,
Canon
,
CES 2019
,
Eutelsat Communications
,
Foxconn
,
Hitachi
,
HPA Tech Retreat
,
LCD
,
LG
,
London Olympics
,
NAB 2006
,
NHK
,
OLED
,
Panasonic
,
Pete Putnam
,
RED
,
ROAM Consulting
,
Samsung
,
Samsung Q900R
,
Sharp
,
Sony
,
TCL
,
Television
,
Ultra HD