During this week's HPA Tech Retreat, BBC production standard lead Andy Quested reported on Digital Out-of-Home (DOOH) screens, which are enjoying a robust 10 percent year-on-year growth. In 2018, these screens were estimated to have a 40 percent reach in the U.S., with an 11 to 18 percent reach worldwide. These advertising billboards play digital video, often mixed with artificial intelligence, interactivity and other new technology tricks, and are now responsible for a 50 percent share of the U.K.'s out-of-home ad dollars.
Quested added that, "21 percent of billboards are now digital," and that the growth of such billboards is expanding rapidly in the London Underground, which carries 1.35 billion people every year. "Your ad is able to target based on demographics and locations," he pointed out.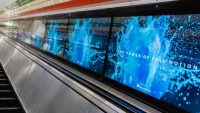 So-called Digital Ribbons are several screens placed close together that can be used to show parts of a single image. He showed the installation of a three-panel "digital ribbon" on the wall of a long escalator. "Going down, I saw the same movie ad a minimum of four times," he said. "And 400,000 people go down this escalator every day."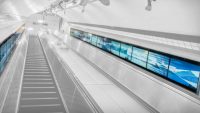 A DOOH screen can also use facial recognition. He showed a Movember Foundation Campaign for prostate cancer awareness in London, where the digital billboard recognized passers-by with moustaches and complemented them on their facial hair.
In New York City, LinkNYC has installed 1,600 high-resolution units that offer free Internet, free calls in the U.S., free device charging and direct 911 calls. These sites, which are now popping up in London, have become social gathering spots. Quested showed one such LinkNYC site not simply advertising a movie, but listing the location and times to watch it at the closest movie theater.
He pointed out the downside of vertical videos, as humorously described in this short YouTube video about "vertical video syndrome." "But today's laugh is tomorrow's income," said Quested. "YouTube is now showing vertical ads, and the recent update allows YouTube to properly display vertical video filling up the whole screen instead of usual heavy letterboxing."
Some out-of-home video displays have turned up in some unexpected locations, including Mr. Friendly, a Dutch startup that builds a waterless urinal with an embedded video screen. (Worse, in 2011, Toylet allowed visitors to this urinal control game play with their own, ahem, stream.)
How real is digital billboard advertising? There's a trade association for them: Digital Place-Based Advertising Association, which offers technical and creative specifications, including 1080×1920 video. The group is building up common practices.
Topics:
Advertising
,
Andy Quested
,
Artificial Intelligence
,
BBC
,
Billboard
,
Digital Advertising
,
Digital Out-of-Home
,
Digital Ribbons
,
DOOH
,
DPAA
,
Facial Recognition
,
HPA Tech Retreat
,
Letterbox
,
LinkNYC
,
London Underground
,
Movember Foundation
,
Mr. Friendly
,
Toylet
,
United Kingdom
,
Vertical Video
,
Video
,
YouTube