While Netflix and YouTube combined account for roughly half of all Internet bandwidth consumed during peak hours in North America, the latest projections from Cisco suggest even greater growth for online video. The company predicts that in five years, video will be responsible for 80 percent of the world's Internet consumption (and 85 percent in the U.S.). Cisco explains that the growth will be the result of cord-cutting, mobile expansion, Internet users consuming more (and higher quality) video, and an increase in the overall number of global users.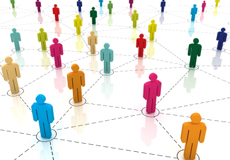 Cisco says that more than half of the world's population will be digitally connected by 2019.
"The cord-cutting household [consumes] more than twice as much data per month as non-cord-cutters," said Robert Pepper, Cisco's VP of global technology policy.
"When you see the Internet as a huge distribution channel for video, it puts virtually everything that tech and communications companies are doing into perspective," reports The Washington Post.
"Telecom firms like Verizon are racing to expand their cellular networks so that they can deliver video over LTE. Cable companies are fleshing out their public Wi-Fi hotspots so users can watch videos outside their homes. Content providers like HBO and CBS are putting their programming on the Internet so that customers don't have to be tethered to their television sets."
Other key takeaways from the latest Cisco Visual Networking Index update:
It would take an individual over 5 million years to watch the amount of video that will cross global IP networks each month in 2019.
Annual global IP traffic will surpass the zettabyte (1000 exabytes) threshold in 2016, and the two zettabyte threshold in 2019.
Over half of all IP traffic will originate with non-PC devices by 2019.
Traffic from wireless and mobile devices will exceed traffic from wired devices by 2019.
The number of devices connected to IP networks will be three times as high as the global population in 2019.
Globally, mobile data traffic will increase 11-fold between 2014 and 2019.
Global mobile data traffic will grow three times faster than fixed IP traffic from 2014 to 2019.
Topics:
Broadband
,
Cable
,
CBS
,
Cisco
,
Connected
,
Cord Cutters
,
Data
,
Distribution
,
Google
,
HBO
,
Internet
,
Internet Traffic
,
IP
,
LTE
,
Mobile
,
Mobile Video
,
Netflix
,
Networks
,
North America
,
Online Video
,
Robert Pepper
,
Telecom
,
Television
,
Verizon
,
Video
,
VNI
,
Wi-Fi
,
Wireless
,
YouTube