Vizio has announced the availability of its P-Series 4K LED HDTV line we first saw during January's CES. The company is dramatically undercutting most current UHD offerings from competing manufacturers. The 50-inch model is priced at $999, which could help push 4K into the mainstream — while the top-of-the-line 70-inch model is priced at a reasonable $2,499. Despite the cost of the P-Series line, Vizio has not skimped on the specs, including features such as Full-Array LED backlighting and local dimming.
"The P-Series features Full-Array LED backlighting, where the set's backlighting is uniformity distributed across 72 LED zones spanning the entire back panel rather than being placed around the edges," explains The Verge. "And the TVs are capable of local dimming, dynamically adjusting the amount of backlight in any given area to achieve deeper blacks. It's still not plasma, but plasma's dead and almost gone now."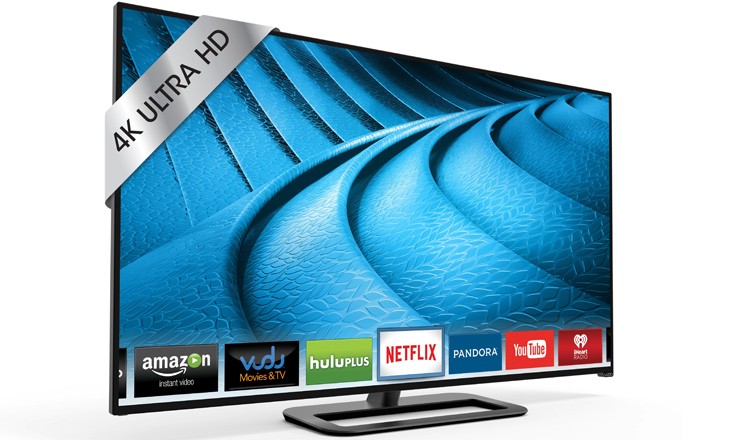 Additional models include a 55-incher priced at $1,400, a 60-incher for $1,700 and a 65-inch model for $2,200. Each of the sets feature Active Pixel Tuning to help eliminate light bleed, which promises to impact sharp contrast.
"Granular control over brightness combined with the balanced, bright lighting of a full-array LED should help the P-Series approach the near-perfect picture quality that OLED delivers," reports Wired.
While there are some concessions to help keep the price down (no 3D playback support, for example), the lower cost of Vizio's offerings teamed with new 4K content coming from the likes of Netflix, Amazon and others could help kickstart UHD adoption. At the very least, Vizio's P-Series may prove to be a stepping stone.
"The picture quality for the price will also make these sets an excellent choice for anyone who isn't quite sold on an Ultra HD upgrade," suggests Wired. "The backlight technology alone will help produce an excellent 1080p picture, and Vizio says its sets will also upscale high-definition video to 'near Ultra HD' resolution. The TVs support 4K video at up to 60fps via a suite of smart TV options, which include streaming Netflix, Amazon, and other sources over 802.11ac Wi-Fi."
For more information or to pre-order, visit the Vizio P-Series site. The sets will also soon be available through Amazon, Best Buy, Costco, Sam's Club, Target and Walmart.