The Airbnb travel accommodations website teamed with ad agency Mullen San Francisco to launch a new experiment in Vine marketing this past week. The "Hollywood & Vines" campaign will result in a short film composed of six-second Vine videos submitted by consumers. Shooting days ran August 22-25, with assigned shots posted hourly. "If your Vine is selected it will be featured on the Sundance Channel and you'll receive a $100 Airbnb coupon," explains the campaign's site.
Airbnb used its Twitter account starting last Thursday to solicit video clips from its 160,000 followers (you can check out some of the better submissions and the daily shot list on the Hollywood & Vines site).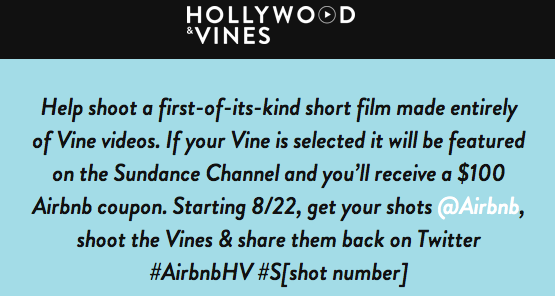 "Each new request includes directions for a specific shot," reports Adweek. "The first set, for example, was 'a paper airplane flies thru diverse landscapes, left to right. Show the best parts of where you live!' The second was 'a paper airplane flies thru an urban area. It barely misses people on busy streets. No faces please!'"
Contributors were given 48 hours after each prompt to submit their Vine videos with the hashtag "AirbnbHV." The best of the submissions will be edited together for a final montage to appear online and on TV. The submissions will be judged based on the following criteria: originality & creativity (40 percent), Vine quality & clarity (20 percent), compliance with director's instructions (40 percent).
"In the end, Airbnb and the global community will help create a story of travel, adventure and finding your place in the world," explains the campaign's How It Works page.
Creating an effective movie from crowdsourced Vine videos may be more challenging than one would think, suggests Wired. "Now that the 40-plus shot directions have all been released, it's pretty clear what trouble Airbnb may end up having with such a complete yet precarious project: A storyboarded, yet completely crowdsourced film means that some shots have had vastly more entries than others." If the more difficult shots do not receive submissions, it "might leave the Airbnb staff no choice but to shoot their own Vines to make the whole film work."
Regardless, the six-second videos are gaining traction. "Other brands recently seen toying around with the short-form platform include Tide, Volkswagen and General Electric," notes Adweek. "Research from social video tracker Unruly Media has shown that branded Vines are four times as likely to be shared as longer-form branded videos."
In a related story, Advertising Week reports that the Vine platform is also creating a new generation of videomakers that are grabbing the attention of brands, some of which are willing to pay up to five-figure sums for six seconds worth of content.
As an example, the article cites "photographer and director Meagan Cignoli, who was 'discovered' by home improvement retailer Lowe's when the company was hunting for someone to direct videos for a Spring campaign called #FixinSix, which showed home improvement tips via Vine." Shortly after Cignoli was contacted by Lowe's, she heard from other brands also expressing interest. So far, she's worked with 14 marketers including Nike, BMW and GE.
Gary Vaynerchuck and Jerome Jarre have signed a number of "Vine stars" to their talent agency GrapeStory. Jarre claims that Vine celebs can earn from $1,000 to $10,000 for each Vine video, depending on the follower count and level of engagement.
Topics:
Ads
,
Advertising
,
Agency
,
AirbnbHV
,
BMW
,
Brand
,
Branded
,
Commercial
,
GE
,
General Electric
,
GrapeStory
,
Hollywood & Vines
,
Lowes
,
Marketing
,
Montage
,
Mullen
,
Nike
,
San Francisco
,
Share
,
Sharing
,
Short Form
,
Social
,
Social Media
,
Sundance
,
Television
,
Tide
,
Travel
,
TV
,
Tweet
,
Twitter
,
Unruly Media
,
Video
,
Vine
,
Volkswagen