Music video company Vevo, a joint venture between Sony Music Entertainment and Universal Music Group, is making the transition from YouTube to television in an approach intended to generate revenue for the companies that create the videos. Vevo will deliver on-demand music videos and launch a channel of original programming via Apple TV set-top boxes and Samsung TVs. While the Samsung launch is likely a few weeks away, Apple could launch its Vevo Apple TV app this week.
"Vevo has said it is hoping eventually to launch its own channels on cable TV, though it hasn't yet been able to land a deal," reports The Wall Street Journal. "The move is part of Vevo's strategy to surmount its biggest challenge: getting fans to watch its videos and original content though the sites and apps it owns — and not through YouTube. YouTube, owned by Google Inc., takes a significant share of the ad revenue generated by content viewed on its site."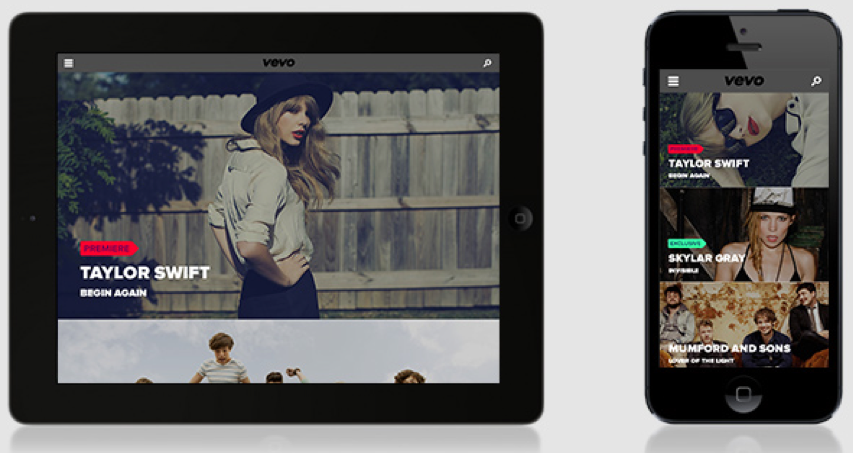 Vevo hopes that getting music fans to migrate from YouTube will be easier with devices such as Internet-connected TVs.
"The deals also allow Vevo to sell ads made specifically for television, which the four-year-old company hopes will help it appeal to advertisers with bigger budgets," notes WSJ. "Vevo grossed more than $200 million last year selling ads that ran with its online music videos, according to people familiar with the matter, with about 30 percent of those ads sold against Vevo's original programming."
The move marks an interesting transition. During MTV's heydey in the 1980s and 1990s, for example, record companies and artists used music videos largely as promotional tools and did not receive any of the revenue from ads that ran with their videos.
Vevo began online testing in March with its Vevo TV channel, featuring blocks of videos and original shows. The majority of viewers have been watching on TV screens, via Xbox game consoles and Roku streaming players. An app for Sony's PlayStation is reportedly in development.
"In November, Vevo will roll out three new channels: One will focus on live music and the other two will stick to specific genres, which will vary over time and by country," explains the article.
Related News:
Why YouTube Buffers: The Secret Deals that Make — and Break — Online Video, Ars Technica, 7/28/13
Future of Content: The Power of Video, Forbes, 7/31/13