Twitter now offers 30-second pre-roll video ads, with an immediate skip option for viewers who don't want to watch them. The ads run in front of videos that are part of Twitter's Amplify program, a social television initiative for broadcasters to publish real-time in-tweet video clips accompanied by Twitter's standard six-second ads. Twitter hopes the longer ads will re-energize the Amplify program, since six-second ads are a hurdle for media partners, which have an inventory of 15-second and 30-second ads.
According to DigiDay, "adding in the skip button, popularized by YouTube, is a good way of finding a middle ground" between six-second ads, which are onerous for media partners, and 30-second ads, which many viewers don't like. Whereas YouTube doesn't charge advertisers for skipped ads, Twitter charges for ads seen for at least three seconds.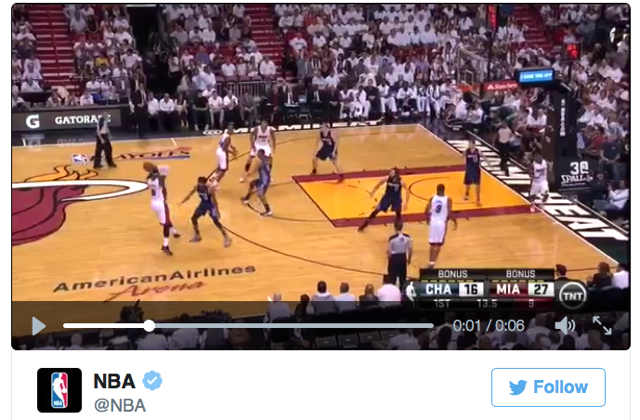 Gareth Capon, chief executive of Grabyo, a social video advertising platform, notes that the greater availability of 15-second and 30-second ads "allows Twitter to scale up more quickly."
But, notes DigiDay, the ads will also be less "native" to Twitter, which stressed to advertisers when it debuted Amplify two years ago that, "short ads would fit better in the user experience."
Sources say that Twitter takes 30 percent of the ad revenue, with 70 percent going to the media partners, "a more favorable deal than what's available at YouTube or Facebook." Those generous terms are intended to encourage higher-quality video content to the service.
Facebook just introduced a revenue-sharing video deal to do the same thing, but avoided the pre-roll ad, instead showing sponsored videos among content from publishing partners, who get 55 percent of the ad revenue. These sponsored videos appear in the "suggested videos" feed.
Amplify partners include Fox Sports, Fullscreen, Vox, TechCrunch, BuzzFeed and sports leagues. Some partners post videos around live events, which create extra sponsorship revenue due to pre-roll video. Examples are the National Football League, which shares game highlights, and the Academy Awards, which shares Oscar clips.
Topics:
Academy Awards
,
Ad Revenue
,
Advertising
,
Amplify
,
Broadcasters
,
BuzzFeed
,
Facebook
,
FOX Sports
,
Fullscreen
,
Gareth Capon
,
Grabyo
,
Live Events
,
Marketing
,
National Football League
,
NFL
,
Oscars
,
Pre-Roll Ads
,
Skip Button
,
Social Media
,
Social TV
,
Sports
,
TechCrunch
,
Twitter
,
Video
,
Video Ads
,
Vox
,
YouTube