Spotify will debut video content on its Android app this week, and the iOS app by end of next week, in the U.S., the U.K., Germany and Sweden. Originally, the music streaming service planned to offer video in May, but has focused on testing videos on its apps with less than 10 percent of its users in the four launch markets. The content is mostly comprised of short clips from ESPN, Comedy Central, the BBC, Vice Media and Maker Studios, among others. Some companies, like Tastemade, are creating original, music-themed series.
The Wall Street Journal quotes Spotify vice president of product Shiva Rajaraman as saying that the goal is "largely to get a wide breadth of content and experiment and test."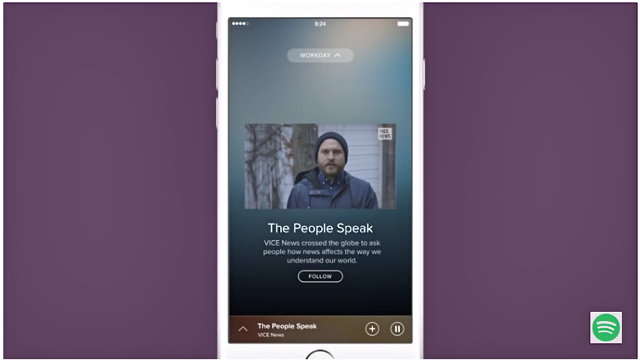 In the process of testing, Spotify learned a number of lessons. First, says Rajaraman, offering "contextually relevant videos," in other words, content based on "the kind of music people listen to or Web videos that are simply tied to music," encourages people to watch clips. One example is Maker Studios' comedic rap series "Epic Rap Battles," which "clicked with users in early tests."
Spotify, valued at over 8.5 billion, relies on its content partners, which also include ABC, Condé Nast Entertainment, Turner's Adult Swim, TBS and Fusion, to curate custom "sets" for its video offering.
Rajaraman acknowledges that, because Spotify, which boasts 75 million global users and 20 million subscribers, is largely a music-listening app, the video feature doesn't come naturally to users, many of which listen to its music in the background. That means there's a need for consumer training. On its own, Spotify also honed the ways that its users find video, deciding ultimately to organize programs into themed packages, like "News of the Week" or "Laughs at Lunch." Video content will be available to subscribers and non-subscribers.
"Obviously our primary user is a music fan, and they are not necessarily leaning in and looking into the app," he said. "So there are no particular recipes for how to get this right." Spotify also has plenty of competition from platforms including YouTube, Facebook and Snapchat that already increasingly dominate Internet video.
United Talent Agency executive David Anderson, however, thinks Spotify has a shot at competing, pointing out its "elegant user interface and its technology prowess."
"It will be interesting to see how they can leverage data and audience insights to inform a programming strategy," he said.
The company, which isn't yet profitable, doesn't view video as a revenue stream, at least yet. Spotify does pay its partners to license content and the video does not include advertising. Instead, Spotify believes video is a way to "expand its audience and get existing users to spend more time with the app." Spotify's current business model is to sell ad-free subscriptions and show ads to nonsubscribers.
Topics:
ABC
,
Ad-Free
,
Adult Swim
,
Android
,
App
,
BBC
,
Comedy Central
,
Conde Nast
,
David Anderson
,
Epic Rap Battles
,
ESPN
,
Fusion
,
Germany
,
iOS
,
Licensing
,
Maker Studios
,
Music
,
Original Series
,
Shiva Rajaraman
,
Spotify
,
Streaming
,
Subscriptions
,
Sweden
,
Tastemade
,
TBS
,
Turner
,
United Kingdom
,
United States
,
United Talent Agency
,
Vice Media
,
Video