If you're in the U.S., India, Russia, Canada or Mexico, the next time you want to tweet a photo, the top stickers will come from PepsiCo. The company, which has created almost 50 different stickers, is Twitter's first partner in promoted stickers. Of those, only eight will be available to Twitter users, specific to 10 countries, including those listed above. In the U.S, Twitter users have the option of two Pepsi cans side by side, smiley emoji, a barbeque grill, and a ballet dancer's feet clad in red pointe shoes.
The Wall Street Journal notes that, to drive home the message, "Pepsi also paid for a promoted hashtag, #SayItWithPepsi." Promoted stickers, which "work exactly the same as non-branded stickers," can "only be applied to photos, and only with Twitter's Android and iOS apps."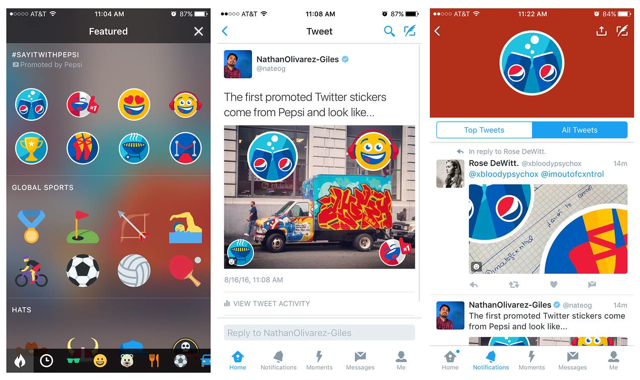 The stickers can be viewed on mobile apps and the Internet, and "act as visual hashtags, which means anyone viewing your photo on Twitter can tap or click the sticker to see other images that use it."
Although Twitter and Pepsi didn't reveal the financial arrangements behind the campaign or when it would end, the two companies called the deal the "largest partnership between two brands to date." Creating new revenue is key for Twitter, which is experiencing both "dwindling revenue and stagnant user growth." The company has also inked deals to live-stream NBA programming and the NFL's Thursday night games.
WSJ compared Twitter's branded stickers with similar ways that platforms "monetize what people share via social media," including video filters that brands can buy on Snapchat and sticker packs for Facebook Messenger.
Topics:
Advertising
,
Android
,
Apps
,
Canada
,
Emoji
,
Facebook Messenger
,
Hashtag
,
India
,
Internet
,
iOS
,
Marketing
,
Mexico
,
Mobile Apps
,
NBA
,
NFL
,
Pepsi
,
PepsiCo
,
Photos
,
Promotion
,
Russia
,
Snapchat
,
Social Media
,
Stickers
,
Tweet
,
Twitter
,
United States
,
Video Filters