Later this year, Audi will roll out the first feature of its new vehicle-to-infrastructure (V2I) service in select 2017 models. The company's new traffic light information system will notify drivers of the remaining wait time at red lights. It represents the first time an individual vehicle will access real-time infrastructure information. The platform is a practical, yet significant, first step for connected cars as they begin to integrate into the existing municipal infrastructure with an eye toward the dawn of "smart cities."
The traffic light information system is part of a suite of Audi connect PRIME services that the company hopes will enrich the driver experience. It expands on Audi's efforts to build broadband-enabled vehicles and, though the current V2I offerings are convenience features now, they hold the promise of congestion management, fuel savings and eventually autonomous driving.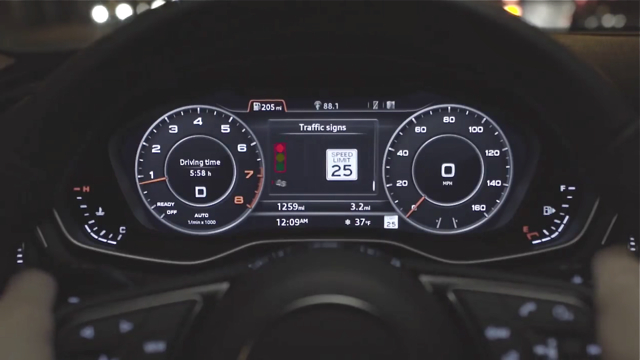 Pom Malhotra, general manager of Connected Vehicles for Audi, said in a statement, "In the future we could envision this technology integrated into vehicle navigation, start/stop functionality and can even be used to help improve traffic flow in municipalities. These improvements could lead to better overall efficiency and shorter commuting times."
Audi launched the traffic light information system in conjunction with Traffic Technology Services (TTS), utilizing data from their traffic management systems that monitor traffic lights. The vehicle's on-board LTE data connection provides the communication platform.
"In 2014, Audi was the first manufacturer to offer 4G/LTE Broadband connectivity," notes the press release.
Audi has not announced which cities and metropolitan areas will be the first in line for the new tech, but the feature will be available on 2017 Q7, A4, and A4 allroad models built after June 1, 2016.
"Expect similar vehicle-to-infrastructure technologies to roll out across the industry over the next few years," suggests The Verge.
Topics:
4G
,
A4 Allroad
,
Audi
,
Audi A4
,
Audi connect PRIME
,
Audi Q7
,
Automobiles
,
Autonomous Vehicles
,
Broadband
,
Connected Cars
,
Data
,
Fuel Management
,
Information System
,
LTE
,
Municipal Infrastructure
,
Navigation
,
Pom Malhotra
,
Safety
,
Smart Cities
,
Traffic Technology Services
,
TTS
,
V2I
,
Vehicle-to-Infrastructure
,
Vehicles