According to Nielsen estimates, Sunday's broadcast of Super Bowl XLVIII on Fox drew 111.5 million viewers, making it the most-watched television broadcast in U.S. history. The overall ratings may have even gone higher had the game not been such a blowout. Last year's Super Bowl on CBS averaged 108.69 million viewers. Sunday's viewership totaled 112.6 million, when including those who watched on digital platforms Fox Sports GO and FoxSports.com, and fans who opted for the Spanish-language feed on Fox Deportes.
The halftime performance by Brunos Mars and the Red Hot Chili Peppers also set a record with 115.3 million viewers. Last year's performance by Beyonce drew 110.8 million viewers, and 114.0 million tuned in for Madonna the year before.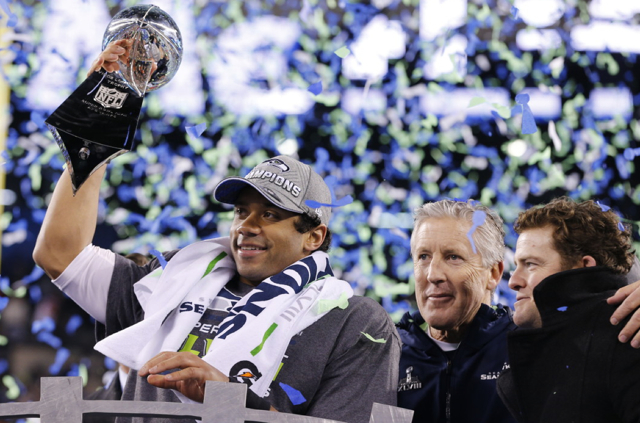 "According to Twitter, more than 24.9 million tweets were made during the live telecast of the game — more than the 24.1 million during last year's game (which also featured a blackout that delayed the game for nearly half an hour)," reports Variety. "By comparison, the previous week's Grammy Awards on CBS attracted roughly 15.2 million tweets during the East Coast airing of the show."
"Nielsen SocialGuide reported Monday that 15.3 million people saw tweets about the Super Bowl, viewing an average of 120 about the game, halftime show or brands advertised on Fox," notes the article. "The number of unique authors (5.6 million, each sending on average 4.5 tweets) was up 6 percent from last year."
Additionally, more than 50 million people turned to Facebook with more than 185 million posts, comments and likes related to the game.
"The top three moments on Twitter and Facebook were the same," adds The Hollywood Reporter. "Seahawks wide receiver Percy Harvin opening the second half with an 87-yard kickoff return for a touchdown, which had 381,605 tweets per minute; Seahawks wide receiver Jermaine Kearse scoring a third-quarter touchdown to extend Seattle's lead, which had 271,775 tweets per minute; and Broncos QB Peyton Manning throwing a pick-six toward the end of the second quarter, which had 244,889 tweets per minute."
TiVo reports that the most rewatched moment of the game was the bad snap during the opening drive that led to a Seahawks safety. TiVo also points out that viewership for the halftime show exceeded numbers for the overall game.
According to TiVo's analytics, the following is a list of the most engaging Super Bowl commercials:
Comedians in Cars Getting Coffee (Halftime)
Budweiser's "Puppy Love" (4th Quarter)
GoDaddy's "Bodybuilder" (4th Quarter)
Doritos's "Cowboy Kid" (4th Quarter)
Toyota Highlander's "Terry Crews & the Muppets" (2nd Quarter)
Doritos's "Time Machine" (1st Quarter)
RadioShack's "The Phone Call" (1st Quarter)
Oikos Greek Yogurt's "The Spill" (4th Quarter)
Bud Light's "Up for Whatever #2" (1st Quarter)
Squarespace's "A Better Web Awaits" (1st Quarter)
Topics:
Beyoncé
,
Broadcast
,
Broncos
,
Bruno Mars
,
Budweiser
,
CBS
,
Commercial
,
Deportes
,
Doritos
,
Facebook
,
Football
,
FOX
,
GoDaddy
,
Grammy
,
Kearse
,
Madonna
,
Manning
,
NFL
,
Nielsen
,
Oikos
,
RadioShack
,
Record
,
Seahawks
,
Seinfeld
,
Show
,
Social
,
Social Media
,
SocialGuide
,
Spanish
,
Sports
,
spots
,
Squarespace
,
Super Bowl
,
Telecast
,
Television
,
TiVo
,
Toyota
,
TV
,
Tweet
,
Twitter
,
Variety
,
Viewer