According to insiders, Spotify is reportedly in discussions with numerous media companies, TV networks, online video producers and magazine publishers to introduce short video clips to its streaming service as early as this month. The additional content would be available on Spotify's mobile platform as part of an effort to keep users more engaged, challenge YouTube's video dominance, and help the service sell more advertising. Discussions with potential partners are believed to be at an early stage and Spotify has yet to announce any deals.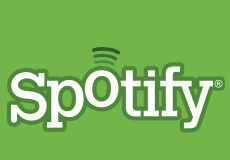 Among the companies that Spotify has reportedly approached include Condé Nast, Fox, NBCUniversal, Viacom and Vice.
"Spotify has offered some of these partners millions of dollars in guarantees, along with the potential for more shared revenue, to provide short clips like late-night television comedy skits that can be watched in all-you-can eat form and arranged into playlists," reports The New York Times.
"According to a media executive briefed on its plans, the music service knows that people leave its platform to view clips on YouTube, so having more video on its own platform would keep users around."
A growing number of digital media companies — including Vessel and Snapchat — are looking to break into online video and take on YouTube.
"The move to video could bring other advantages for Spotify, including making a splash ahead of Apple, which is expected to unveil its plans for a new streaming music service next month," notes NYT. "Spotify is also in the middle of tense licensing renegotiations with record companies, and the addition of video could lessen the service's dependence on the labels."
Topics:
Advertising
,
Apple
,
Conde Nast
,
FOX
,
Licensing
,
Magazine
,
Mobile
,
Music
,
NBCUniversal
,
Online Video
,
Playlists
,
Producers
,
Publishers
,
Record Labels
,
Revenue
,
Snapchat
,
Songs
,
Spotify
,
Streaming
,
Subscribers
,
Television
,
TV Clips
,
TV Networks
,
Vessel
,
Viacom
,
Vice
,
Video
,
Video Ads
,
Video Clips
,
YouTube