During his CES presentation, Sony president and CEO Kazuo Hirai revealed plans for the company's future, including an emphasis on creating personal experiences for customers, generating sustainable growth for the Sony brand through continued innovation, and developing new products as "objects of desire." "When you experience one of our products, interact with one of them, we want to generate an emotional response," he explained. Hirai recognized Mike Fasulo, president/COO of Sony North America, for his "incredible efforts in this pursuit," and announced the company's new 4K OLED offerings, new 4K Bravias and Android TV OS.
"Hirai noted the popularity of the PlayStation VR product that was introduced last fall," reports TWICE. "He also highlighted CES introductions including Sony's new 4K OLED TVs, 4K additions to its Bravia line featuring Dolby Vision, an Android TV OS and a new 4K Blu-ray player."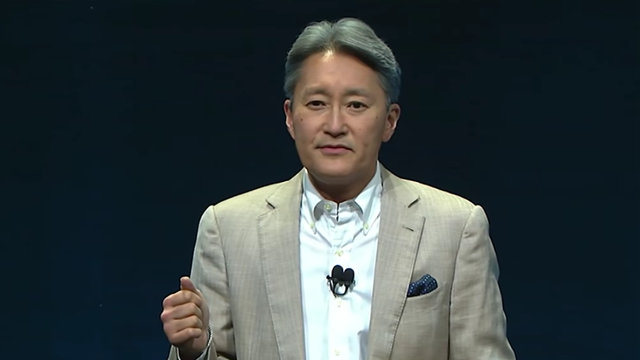 The Verge describes the XBR-A1E OLED Bravia 4K TV with Dolby Vision HDR as "jaw-dropping," and suggests that, "LG finally has some OLED competition."
"The A1E Bravia series will be available in 55-, 65-, and 77-inch sizes," notes The Verge. "Sony isn't yet saying how much it will cost; for context, LG's OLEDs range from $2,500 (55 inches) way up to $20,000 for a 77-inch Signature G6 TV."
The new Bravia joins the Sony family in running Android TV. "You can control it with the Google Home speaker, download a slew of streaming apps from Google Play, or cast content to the OLED screen from a smartphone, tablet, or PC. The company's PlayStation Vue Internet TV service will also be getting some prominent positioning, if the press release is any indication, and Sony will include its Ultra 4K video service as well."
Sony's Bravia also features new "acoustic surface sound technology" that plays audio directly through a speaker that is embedded in the TV screen, similar to tech introduced from LG this week.
During its press conference in Las Vegas, Sony also announced a new projector, the $25,000 VPL-VZ1000ES, shipping in April.
Sony's latest home theater "is meant to blend in with your living room and can project a 100-inch image from six inches away," notes CNNMoney. "You can set up the 77-pound 4K projector pretty much anywhere with adequate wall space, which means you don't need a separate home theater room to watch your favorite movies."
Topics:
4K
,
Android TV
,
Audio
,
Blu-ray Player
,
Bravia
,
CES 2017
,
Dolby Vision
,
Gaming
,
Google Home
,
Google Play
,
HDR
,
Home Theater
,
Internet TV
,
Kazuo Hirai
,
LG
,
Mike Fasulo
,
Movies
,
OLED
,
PC
,
PlayStation VR
,
PlayStation Vue
,
Projector
,
Smart TV
,
Smartphone
,
Sony
,
Speakers
,
Tablet
,
Television
,
UHD TV
,
Ultra HD
,
Video
,
Virtual Reality