Nissan CEO Carlos Ghosn delivered a CES keynote that addressed the company's goal to integrate Microsoft tech into its automobiles. Nissan's connected vehicles will use Microsoft programs including the Cortana voice assistant, Dynamics, Office 365, Power BI and Skype for Business. Microsoft is launching a new Connected Vehicle Platform based on its Azure cloud platform, and the Renault-Nissan alliance will be the first automotive partner for the tech giant's new initiative. The move comes during increased competition in automotive tech; Amazon, for example, is looking to get its virtual assistant Alexa into cars and just announced a deal with Ford.
Microsoft "has worked with a variety of automakers in the past, including a high-profile partnership with Ford on early versions of the automaker's Sync platform," reports GeekWire. "Microsoft also has an existing partnership with Toyota on cloud-based connected car technology, and last year announced new details about partnerships with automakers Nissan and Volvo."
Toyota is among the many auto manufacturers envisioning the use of voice assistants to streamline interaction with infotainment systems, help with navigation and daily predictive tasks, and foster safety.
At CES, Toyota "revealed a vision of a future car with a voice-activated interface called Yui that appears in various places inside the vehicle and uses lights, sounds and touch to communicate," explains The Wall Street Journal.
In addition, chipmaker Nvidia announced "new abilities to create a so-called co-pilot for self-driving cars that can help the vehicles operate by pointing out approaching hazards. Making use of cameras and speakers inside the car, the system also can track the driver's head movements, eye gazing and lips to better understand and predict what is going on with the human."
"Microsoft is not building its own connected car," said Peggy Johnson, Microsoft EVP of business development. "Instead, we want to help automakers create connected car solutions that fit seamlessly with their brands, address their customers' unique needs, competitively differentiate their products and generate new and sustainable revenue streams."
Meanwhile, Ford is integrating "Amazon's Alexa voice assistant this month, starting by allowing hybrid and electric vehicle owners to interact with and control their cars from inside their homes using Amazon Echo and other Alexa-enabled devices," notes GeekWire.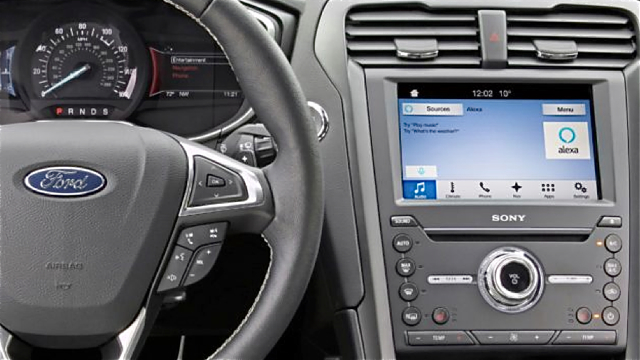 This summer, Ford "will expand the integration by adding Alexa to vehicles running its Sync 3 in-car technology — allowing drivers to press a button to ask for driving directions, sports scores and anything else Alexa would normally do."
"Other companies are moving in the same direction," adds The New York Times. "Apple's Siri can be used to control iPhone functions in cars, and Apple's CarPlay software allows drivers to dictate text messages while driving, as well as program destinations into Apple Maps and have the route plotted on the car's display. Google's Android Auto can do the same. In the last year, carmakers like BMW, Mercedes-Benz and General Motors have also introduced improved voice-recognition systems that can understand normal spoken words for many tasks."
Alexa is making a major splash at CES this year, with announcements of integration with a wide range of electronics and appliances. According to CTA chief economist Shawn DuBravac, as many as 700 Alexa applications could launch during the show.
Topics:
Alexa
,
Amazon
,
Android Auto
,
Apple
,
Automotive
,
Azure
,
BMW
,
Carlos Ghosn
,
CarPlay
,
CES 2017
,
Cloud
,
Connected Vehicle Platform
,
Cortana
,
CTA
,
Digital Assistant
,
Dynamics
,
Echo
,
Ford
,
GM
,
Keynote
,
Mercedes-Benz
,
Microsoft
,
Nissan
,
Nvidia
,
Office 365
,
Peggy Johnson
,
Power BI
,
Renault
,
Shawn DuBravac
,
Siri
,
Skype for Business
,
Sync
,
Toyota
,
Virtual Assistant
,
Volvo