Social TV startup Zeebox has unveiled an update that includes automatic content recognition (ACR) functionality for its companion app. Users can now have their mobile devices listen to what's playing on the television and the ACR feature will help them share their TV viewing or deliver related information about the programming. Zeebox says the app can recognize shows up to seven days after they air, so it will also recognize content saved on DVRs.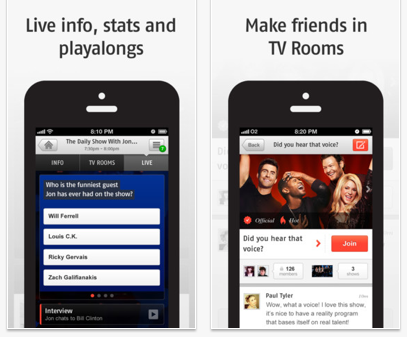 "Zeebox announced earlier this year that it was partnering with Gracenote to bring ACR to its app, which is available for Android, iOS and Blackberry," reports GigaOM. "The technology uses a device's microphone to record short snippets of audio and then generate a so-called audio fingerprint, which Gracenote then compares to its constantly updated index of TV programming."
"Gracenote reps tell us that Zeebox records a short, Vine-length audio clip, and then generates an audio profile based on that, which is recognized by Gracenote's Entourage system — the audio recording itself never leaves your device," adds Engadget.
Additional Zeebox updates include content recommendations based on viewing history and improvements to its chat room feature known as TV Rooms.
"New version 3.0 of Zeebox's second screen app includes a feature called TV Rooms, which a company exec describes as a sort of Facebook to connect actors, filmmakers and TV fans," notes Carolyn Giardina of The Hollywood Reporter.
According to Jason Forbes, executive VP USA of Zeebox, TV Rooms could be a place for actors and filmmakers to connect with audiences. "We were in Los Angeles last week and met with large content producers," he said. "The feedback we got was the ability to connect directly with fans before, during and after a program is massively important."
Zeebox currently includes about 4,000 TV Rooms, including 30 alone set up by fans for NBC's "The Voice." Giardina writes that Bravo has created a network-sponsored "Real Housewives" TV Room, with plans to have cast members interact with fans during "The Real Housewives of Orange County: 100th Episode Special" on June 24.