Snap inked multi-year deals for custom short-form content with Disney, NBCUniversal, ViacomCBS, the National Basketball Association and the National Football League. It released plans for original content including unscripted series, docuseries, and scripted dramas and comedies. In partnership with The Washington Post, Bloomberg and ESPN, Snap will produce "Happening Now," a breaking news feature. It also revealed that 170+ million people use its augmented-reality tools daily, moving the technology into the mainstream.
The New York Times reports NBCUniversal Digital Enterprises president Maggie Suniewick stated that Snapchat is "a brand-safe environment where we can reach millions of new viewers." Snap reported, "in April that daily active users had grown more rapidly than expected, reaching 229 million people" and that "time spent watching its original shows had doubled in recent months compared to a year earlier."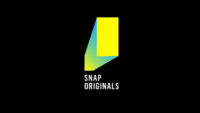 The company began making unscripted programs in 2016, adding scripted ones and docuseries in 2018, with six-second, non-skippable ads. Scripted shows are composed of five-minute long episodes, with eight to 12 episodes in a season.
According to Wedbush Securities' Michael Pachter, Snap's entertainment and news programming is "not enough to move the needle — yet." Snap content chief Sean Mills noted that it's "getting better and better at programming." "It's not about episode length," he said. "It's not about aspect ratio. It's not about how many stars you have. It's how you tell the story and how well you know your audience."
Public data reveals that Snapchat "reaches more 13-to-34-year-olds in the United States than Facebook or Instagram." NFL vice president for digital media development Blake Stuchin said that, "70 percent of Snapchat users that view NFL content are under the age of 25."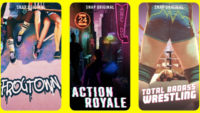 TechCrunch details the new slate of Snap Originals, which includes "Coach Kev (Laugh Out Loud)," in which Kevin Hart gives advice and inspiration and "Fake Up" with optical illusion make-up artists transforming their faces. Scripted shows include "Frogtown," directed by Catherine Hardwicke; "Action Royale" about an underground eSports gambling ring; and "Total Badass Wrestling," on a mentorship between a young wrestler and veteran one.
Existing Snap Originals renewed for another season include "Dead of Night," which has 15 million viewers; "Nikita Unfiltered," with 22 million viewers; and "Will From Home" (featuring Will Smith) attracting 35 million viewers.
Bloomberg reports that the 170 million people who use Snapchat's AR tools represent roughly 75 percent of its user base. Third-party developers have created about one million AR lenses and, said Snap, the "top-performing lenses get billions of views." Chief executive Evan Spiegel noted that, due to the COVID-19 quarantine, retailers "may be more willing to try new digital ways of helping shoppers try on shoes or makeup."
Snap also offered Scan, an AR tool that "will let people digitally interact with anything they see through their phone camera." Partners have also built tools to allow users to identify "dog breeds and plants, or know how to point their phone at something and find the word for it in a local language."
Topics:
Augmented Reality
,
Blake Stuchin
,
Bloomberg
,
Catherine Hardwicke
,
Coronavirus
,
COVID-19
,
Disney
,
ESPN
,
Evan Spiegel
,
Facebook
,
Instagram
,
Kevin Hart
,
Maggie Suniewick
,
Michael Pachter
,
NBA
,
NBCUniversal
,
NBCUniversal Digital Enterprises
,
NFL
,
Sean Mills
,
Snap Inc.
,
Snap Originals
,
Snapchat
,
The Washington Post
,
ViacomCBS
,
Wedbush Securities
,
Will Smith