Rotten Tomatoes has been synonymous with movie scores since it was cooked up by three UC Berkeley undergrads in 1998. The site aggregates reviews from professional critics and provides a "Tomatometer" that averages out the reviews with a Fresh rating when 60 percent or more are positive or Rotten if it goes below that threshold. It also provides an audience score, based on what Rotten Tomatoes users think. Now, the company is debuting an ad-supported OTT service called the Rotten Tomatoes Channel, currently on Roku, to offer nonstop content and a lifestyle brand.
Fast Company reports that Rotten Tomatoes senior vice president and chief creative officer Sandro Corsaro said the company wants people to see the scores as "the beginning discussion point." In addition to Roku, the Rotten Tomatoes Channel will soon be available on other streaming platforms, such as Xumo and NBC's Peacock (NBC-owned Fandango acquired Rotten Tomatoes in 2016).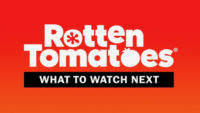 The Rotten Tomatoes Channel will offer blocks of "shows and videos — including ten new, original series — for every level of movie geek and cinephile," focused on "a lot of comedy and fun and dynamics."
"Countdown" takes a category and rates entries; "Trailer Reloaded" is "a cornucopia of movie trailers that date back to the sixties." Corsaro compared it to MTV in the 1980s, "the era before 'Jersey Shore,' before 'The Real World' … "they packed in these awesome music videos and ultimately had blocks of content."
Rotten Tomatoes has already ventured into book publishing, podcasts and original content on its social media platforms. Unique visits to its editorial content "was up 147 percent in the first quarter of 2021 compared to the first quarter of 2020." Corsaro added that the company also introduced "a more polished logo" in 2018.
The company relies on humans — not algorithms — to "crunch the data and spit out a review score … a practice that inspires huge brand trust in the company." Its Verified Audience Score also "seeks to authenticate scores submitted by people who bought movie tickets through Fandango."
Rotten Tomatoes expanded the critics it surveys to include "hundreds of new voices, many of whom are from underrepresented and minority groups … [and] many more freelance, digital, and podcast critics." Corsaro noted that the audience is "far more evenly split between men and women … and the site is as much about learning about the new Marvel title as about an Oscar-nominated foreign-language film such as 'Minari'." Corsaro added that branded content is another plan for the future.
Variety reports that, after the launch on Roku and Peacock, the Rotten Tomatoes Channel will debut on "Comcast-owned Xumo, with other distribution deals in the works including with Internet pay-TV providers, according to Fandango." This 24-hour linear channel will "loop about 100 hours of premium programming around the clock … culled from RT's stable or original shows."
It adds that parent company Fandango sees the Channel as a way to "expand its audience reach and provide new entry-points into the entire Fandango ecosystem," including movie ticket sales and digital sales and rentals. When Fandango acquired Rotten Tomatoes from Warner Bros., the latter retained a 25 percent stake.
Topics:
Ad-Supported
,
Advertising
,
Branded Content
,
Comcast
,
Fandango
,
Marvel
,
Movie Critics
,
MTV
,
NBC
,
NBCUniversal
,
Original Content
,
OTT
,
Pay TV
,
Peacock
,
Podcasts
,
Reviews
,
Roku
,
Rotten Tomatoes
,
Rotten Tomatoes Channel
,
Sandro Corsaro
,
Tomatometer
,
UC Berkeley
,
Verified Audience Score
,
Warner Bros.
,
Xumo