Owners of Roku streaming players, sticks and TVs will now have access to a new service — "The Roku Channel" — that offers free, ad-supported streaming of movies and TV shows. The channel, which will roll out in phases "over the coming weeks," features content that Roku has licensed directly from studios including Lionsgate, MGM, Paramount, Sony and Warner Bros. — and movies from other channel publishers currently on the Roku platform such as American Classics, FilmRise, Nosey, OVGuide, Popcornflix, Vidmark and YuYu. Roku expects additional publishers to participate in the future.
"Like its rivals — Apple TV, Chromecast and Amazon Fire TV — Roku offers an easy way to access all the top streaming services, as well as many of the niche players," reports TechCrunch.
"However, unlike the other competitors, Roku hasn't really used its platform as a way to push its own video marketplace or streaming service the way Apple does with iTunes, Google with Google Play Movies & TV, and Amazon does with Amazon Video and Prime Video."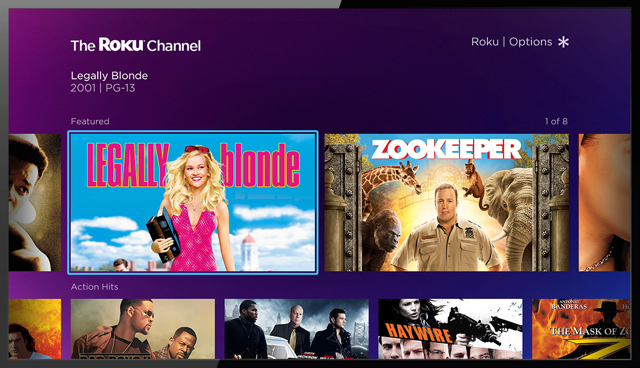 The launch of its own channel featuring free film and TV content "is likely part of Roku's plan to grow its user base and ad business ahead of its IPO," suggests The Verge. However, the announcement did not include plans for original content produced by Roku.
Roku previously offered curated content through its Roku Recommends and 4K Spotlight channels. While content can be browsed on the new channel through a standard navigation format of sections organized by genre and a featured selection of curated titles, for example, content is not branded once streamed.
"There's no branding that says the movie is a 'Popcornflix' title … nor would clicking the movie redirect users to the Popcornflix channel to launch the video stream," notes TechCrunch. "Instead, the movies will just begin to play, making the experience more seamless for customers."
However, Roku reportedly offers revenue sharing to its publisher partners, although details have not been revealed.
Reports indicate Roku will limit ad time and avoid the annoying repetition of an individual spot. The channel is expected to feature about half as many ads as what currently airs on linear TV.
"The main things were focused on is limiting the commercial breaks, and the timing and placement," said Roku CMO Matthew Anderson. "We're looking at some of the things that have frustrated viewers in the [over-the-top] environment either on or off the Roku platform, and we've tried to take those away."
Topics:
4K
,
Advertising
,
Amazon
,
Amazon Prime
,
Amazon Video
,
American Classics
,
Apple TV
,
Chromecast
,
FilmRise
,
Fire TV
,
Google
,
Google Play
,
IPO
,
iTunes
,
Licensing
,
Lionsgate
,
Matthew Anderson
,
MGM
,
Movie
,
Nosey
,
OTT
,
OVGuide
,
Paramount
,
Popcornflix
,
Roku
,
Sony
,
Streaming
,
Television
,
The Roku Channel
,
TV Show
,
Video
,
Vidmark
,
Warner Bros.
,
Yuyu