This year's edition of Interbrand's "Best Global Brands" report places Apple in the No. 1 spot as the world's most valuable brand for the second year in a row. Apple and No. 2 brand Google knocked Coca-Cola to the No. 3 spot last year. The top three positions are the same for 2014. The report, which provides a ranking of the top 100 valuable global brands, list a growing number of technology brands. Microsoft, Samsung and IBM are listed in the top 10, while Intel, Cisco, Amazon, Oracle and HP are in the top 20.
Apple and Google have been battling it out for the top spot for several years. According to the "BrandZ Top 100 Most Valuable Global Brands" report, released in May by Millward Brown Optimor, Google is now in the No. 1 position, knocking Apple to the No. 2 spot after three years of holding the lead.
"The Apple brand is valued at $118.9 billion, up 21 percent from last year," reports The New York Times. "The Google brand, at $107.4 billion, rose in value by 15 percent from last year. Those twin peaks represent the first time two brands have each earned a value of more than $100 billion in a Best Global Brands report."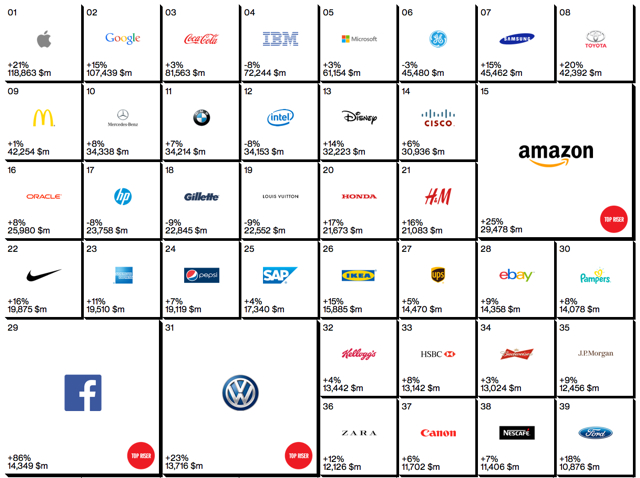 The tech category represented the highest overall value at $493.2 billion, followed by automotive, financial services and luxury categories.
Social giant Facebook had the highest percentage increase in value from the previous year and jumped to the No. 29 spot from No. 52 last year. According to Jez Frampton, global chief exec of Interbrand, Facebook is "still growing," while "Twitter is starting to get closer to appearing on the table."
While a number of tech brands continue to hold or increase their value, some have not fared as well. For example, Nokia experienced the largest decline of any brand on the list, dropping 44 percent from 2013. Nintendo dropped from No. 67 last year to No. 100 in 2014.
Other rankings that should be of interest to our readers include: Disney (13), eBay (28), Canon (37), Philips (42), Sony (52), Xerox (62), Panasonic (64), 3M (66), Discovery (67), Adobe (77), MTV (80), and Huawei (94).
The "Best Global Brands" report is Interbrand's 15th annual analysis of global brand values. Interbrand is a corporate identity and brand consultancy that is part of the Omnicom Group.
Editor's Note: Thanks to community member Lee Lanselle of AsiaParks Partners for forwarding this news item.