"Discover, shop, and express your style" is the slogan for Polyvore, an online global community that has created over 80 million collage-like "sets," designed to give everyone a voice in shaping trends and influencing purchases. While it may not be a household name yet, the social network drives disproportionate amounts of social revenue. At 20 percent, it drives more social traffic than Pinterest (15 percent) and four times that of Twitter (5 percent).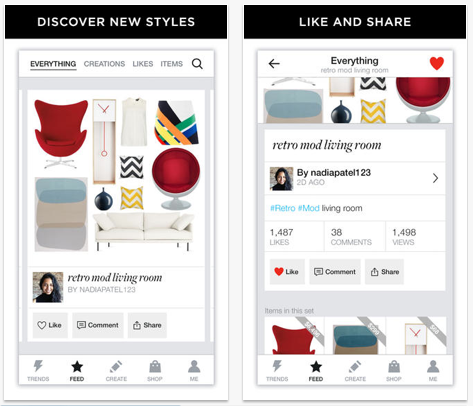 The only platform Polyvore has yet to beat is Facebook, which currently serves as a launching pad for 60 percent of social shopping, according to VentureBeat.
"Facebook's audience is huge, so it's not surprising that they drive a mass audience, with somewhat lower average spend, on retailer sites," explains Diane Kegley, chief marketing officer of RichRelevance. "Pinterest and Polyvore attract a different shopper — in large part because of the user experience: those sites are very visual and engaging — and in many ways mimic a curated catalog experience with ensemble shopping."
Polyvore is essentially like Pinterest, but is specifically focused on products that its community members may want to purchase. "Our savvy community is ahead of the curve, predicting trends before they hit the mainstream," claims the About page.
"While Twitter-initiated social shopping sessions convert only .49 percent of the time, and Pinterest and Polyvore both convert around one percent of the time, Facebook converts social looky-loos to buyers 2.69 percent of the time, according to RichRelevance," notes the article.
However, Polyvore's average order value (AOV) is impressive: "While the AOV for Twitter is just under $60, and Facebook is just over $90, the average order value for a Pinterest shopping session is almost $200. Even that, however, pales before Polyvore, which drives average shopping carts with an astounding $383 value."
"Brands and retailers tend to focus on the big three social networks — Twitter, Facebook, and Pinterest, but we can't overlook a site like Polyvore, [which] is driving double the average order value of Facebook," said Kegley. "The consumers on Polyvore are in buying mode, and there is real value to retailers and brands when social consumers are in that mindset."
For more information, check out the Polyvore site or download the iOS app.
Topics:
Advertiser
,
Advertising
,
AOV
,
App
,
Apple
,
Brand
,
Cart
,
Catalog
,
Collage
,
Community
,
Facebook
,
Images
,
iOS
,
iPad
,
iPhone
,
Kegley
,
Marketer
,
Marketing
,
Mobile
,
Network
,
Online
,
Order
,
Pin
,
Pinterest
,
Polyvore
,
Post
,
Power
,
Purchase
,
Report
,
Research
,
Retail
,
Retailer
,
RichRelevance
,
Set
,
Share
,
Sharing
,
Shop
,
Shopping
,
Social
,
Social Media
,
Trend
,
Twitter
,
Visual