According to a new report from research firm SNL Kagan, the U.S. pay-TV industry registered a decline in subscriptions during 2013. While the loss of 251,000 subscribers among cable, satellite and telco TV providers was quite small (just 0.02 percent of 110.2 million total pay-TV households), it raises concerns that cord-cutting may have a greater impact in the future. The report notes that younger American consumers are less likely to have pay TV than their parents.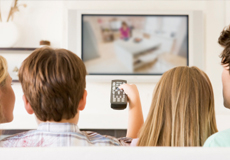 "What's worrisome for pay-TV providers and networks alike is that millennials (ages 16-34) are considerably more likely than non-millennials (35-64) to not have a cable or satellite subscription," reports Variety. "Among millennials, 13 percent say they have no pay TV, compared with 9 percent of the older cohort, according to a Verizon survey of 1,000 consumers."
"Industry execs have downplayed the fact that the younger demo is less inclined to have pay-TV subscriptions; the sentiment is that once they move out of their parents' house, they'll pay for cable," explains the article. "But the data tells a different story: In 2013, housing units in the U.S. increased by a net of 323,000 last year to nearly 115 million, according to SNL Kagan's analysis. That means household penetration of pay TV declined for the year."
"We're losing a whole generation of individuals who aren't going to buy into (the pay-TV) model because they only want one particular show or they want to watch the show wherever they can or they want to watch it on their schedule, and so that generation is not signing up to satellite or cable or phone video today," said Charlie Ergen, Dish Network founder and chairman.
Dish is putting together a stripped-down virtual pay TV service to be delivered over broadband with the intent of targeting cord-nevers.
SNL Kagan points out that cable providers collectively lost 2 million video subscriptions for the full year and 388,000 in the fourth quarter alone.
"Dish and DirecTV grew, although more slowly than in previous years, with a year-end gain of 170,000 subscribers," adds Variety. "Telco TV providers, led by Verizon FiOS and AT&T U-verse — still relatively new entrants — added 1.6 million subs to reach 10.7 million at the end of 2013."
Topics:
AT&T
,
Broadband
,
Cable
,
Comcast
,
Cord
,
Cord Cutting
,
Cord Never
,
Cutting
,
Data
,
Decline
,
Demo
,
DirecTV
,
Dish
,
Distribution
,
Ergen
,
FiOS
,
Household
,
Industry
,
Kagan
,
Millennial
,
Model
,
Network
,
Operator
,
Pay TV
,
Phone
,
Program
,
Provider
,
Report
,
Research
,
Satellite
,
Series
,
Show
,
SNL
,
Study
,
Subscribe
,
Subscriber
,
Subscription
,
Survey
,
Telco
,
Television
,
Time
,
Trend
,
TV
,
TWC
,
U-verse
,
Variety
,
Verizon
,
Video
,
Virtual
,
Warner