At this week's Advertising Week conference in New York, Nielsen is expected to announce that it will start incorporating viewership on mobile devices into its TV ratings system in the fall of 2014. The move is in response to changing viewership trends in addition to networks and industry analysts that have been critical of the company's slow adoption of new technologies. Nielsen's ratings data helps determine how advertisers spend about $66 billion each year.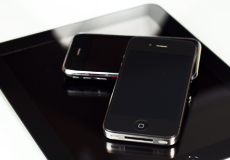 "It is a response to the requests — and sometimes outright pleas — from networks for a more complete accounting of viewership," reports The New York Times. "While most TV consumption still happens through traditional TV sets, more and more people are watching on other screens, like smartphones. Networks have been pressuring Nielsen to include those people in the ratings reports that calibrate advertising rates and influence the perceptions of success and failure."
The approach, reportedly three years in development, will provide a single measure of live television viewing across traditional TV as well as digital services.
"Networks are starving for a number they can publish that really represents their audience not just on TV but across all platforms," said Eric Solomon, Nielsen's senior VP of global audience measurement. "I think it will start changing the narrative that 'people are not watching TV shows.' It's that they're watching on different platforms."
Nielsen plans to expand its TV ratings data to include figures related to consumer viewing on tablets and smartphones by next fall's season. As we previously reported, the company is also rolling out a Twitter-related ratings service the end of this month that will measure the audience that sees tweets about TV shows.
"Meanwhile, the company's $1.3 billion acquisition of Arbitron Inc., a radio measurement company that also has technology to advance Nielsen's TV measurement capabilities outside homes, could get approval from the Federal Trade Commission as early as Friday, people familiar with the situation said," reports The Wall Street Journal. "It would likely come with conditions including one to ensure Arbitron continues a measurement initiative with Nielsen rival comScore Inc., one of the people said."
"The new Nielsen capability means live television streamed through such apps as ABC's WatchABC, as well as on iPad video apps from cable operators, can now be counted toward the total numbers on which programmers get paid by TV advertisers," according to Variety. "However, to be counted as part of Nielsen's TV ratings, mobile apps must include special code that can track live TV (and send it back to Nielsen). That's a step that will take time for Nielsen and its partners to implement, test and refine."
"Because Nielsen ratings exist mainly for the buying and selling of TV advertising time, the expansion plan does not include ad-free streaming services like Netflix, which mainly carries previous seasons of shows," notes NYT. "Nor does the plan initially include Hulu, the streaming service jointly owned by the parent companies of ABC, Fox and NBC, because the ads that are streamed on Hulu differ from the ads on TV."
However, Nielsen plans to launch its Digital Program Ratings during the first quarter of next year. Digital Program Ratings measure consumption of television online delivered without national commercials, but including digitally inserted online ads instead. The Digital Program Ratings pilot includes participation from A&E, ABC, AOL, CBS, CW, Discovery, Fox, NBC and Univision.
Topics:
Ads
,
Advertiser
,
Advertising
,
App
,
Arbitron
,
Audience
,
Broadcast
,
Comscore
,
Fall
,
FTC
,
Hulu
,
iPad
,
Marketing
,
Measure
,
Mobile
,
Netflix
,
Network
,
New York
,
Nielsen
,
NYC
,
Phone
,
Program
,
Ratings
,
Screen
,
Season
,
Second Screen
,
Show
,
Smartphone
,
Social
,
Social Media
,
Solomon
,
Streaming
,
Tablet
,
Television
,
Track
,
TV
,
Tweet
,
Twitter