It seems that cord-cutting is continuing with the coveted 18- to 34-year-old demographic. New data from Nielsen indicates that traditional TV viewing among millennials dropped 10.6 percent between September and January, falling at twice its normal rate. According to Nielsen, there are nearly 20 percent fewer young adults watching primetime television than in 2011. Additionally, the median age of the TV audience is now 50, just outside the 18- to 49-year-old demographic important to advertisers.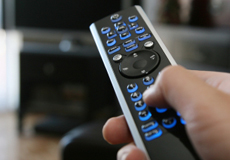 "The change in behavior is stunning," said Alan Wurtzel, NBCUniversal's audience research chief. "The use of streaming and smartphones just year-on-year is double-digit increases. I've never seen that kind of change in behavior."
Implications for the $80 billion TV ad market could be significant, but the Nielsen figures do not mean that younger audiences are not watching content elsewhere.
"Millennials are watching online video from Netflix, Amazon Prime, HBO GO and other streaming sources," notes The New York Post. "Consumption of video is bigger than ever. Wurtzel's research shows a year-over-year increase of 22 percent in subscription video viewing in 2014, and a 26 percent rise in binge viewing."
Network execs are working to reach the audience that watches TV shows on smartphones, tablets and other devices — an audience that has so far been difficult to measure.
Viacom says that about 30 percent of its ad deals are now based on other data sources than Nielsen. NBC, which streams its shows via Hulu and NBC.com, indicates that about 500,000 viewers ages 18 to 49 watch "The Blacklist" on digital devices.
Topics:
Advertising
,
Alan Wurtzel
,
Amazon Prime
,
Audience
,
Binge Viewing
,
Cord Cutting
,
HBO GO
,
Hulu
,
Millennial
,
Mobile
,
NBC
,
NBCUniversal
,
Netflix
,
Nielsen
,
Research
,
Smartphone
,
Streaming
,
Survey
,
Tablet
,
Television
,
The Blacklist
,
TV Show
,
Viacom
,
Video