Netflix and YouTube continue to dominate as the most-used video services in North America, according to new data published in Sandvine's Global Internet Phenomena Report. The two services combined were responsible for more than half of all peak residential North American downstream traffic during September. Together, Hulu and Amazon accounted for a mere three percent of peak downstream traffic. Netflix alone accounted for nearly 32 percent of downstream traffic.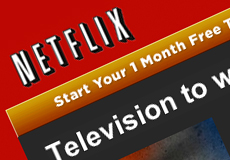 "Leading the charge was Netflix with 31.62 percent of all peak downstream traffic, while YouTube was responsible for 18.69 percent of all peak downstream traffic," reports GigaOM. "Amazon video, which consists of both VOD and Prime subscription streams, was responsible for just 1.61 percent of all peak downstream traffic, and Hulu came in at just 1.29 percent."
According to Sandvine, YouTube experienced 9 percent growth since the last report published earlier in the year, and continues to be the leader of out-of-home mobile viewing, responsible for 17.69 percent of mobile downstream traffic in the U.S.
"For the first time ever, peer-to-peer filesharing has fallen below 10 percent of total traffic in North America, which is a stark difference from the 60 percent share it consumed 11 years ago," said Sandvine CEO Dave Caputo in the report's press release.
"Since 2009 on-demand entertainment has consumed more bandwidth than 'experience later' applications like peer-to-peer filesharing and we had projected it would inevitably dip below 10 percent of total traffic by 2015," he said. "It's happened much faster."
Other key findings from the Sandvine report, according to the press release:
Average monthly mobile usage in Asia-Pacific now exceeds 1 gigabyte, driven by video, which accounts for 50 percent of peak downstream traffic. This is more than double the 443 megabyte monthly average in North America.
In Europe, Netflix, less than two years since launch, now accounts for over 20 percent of downstream traffic on certain fixed networks in the British Isles. It took almost four years for Netflix to achieve 20 percent of data traffic in the United States.
Instagram and Dropbox are now top-ranked applications in many regions across the globe. In mobile networks in Latin America, Instagram, due to the recent addition of video, is now the 7th top ranked downstream application, making it a prime candidate for inclusion in tiered data plans which are popular in the region.
Video accounts for less than 6 percent of traffic in mobile networks in Africa, but is expected to grow faster than in any other region before it. Blackberry email and BBM messaging accounts for over 13 percent of traffic across the continent.
Related Stories:
Netflix Video Usage More Than 10 Times Amazon and Hulu Combined, Variety, 11/11/13
To Find Real Value in Digital Media, Look for the Bandwidth Hogs, Quartz, 11/11/13
Topics:
Africa
,
Amazon
,
App
,
BBM
,
BlackBerry
,
Caputo
,
Data
,
Dropbox
,
Europe
,
File Sharing
,
Global
,
Hulu
,
Instagram
,
Internet
,
Latin
,
Mobile
,
Netflix
,
North America
,
On Demand
,
P2P
,
Peer
,
Phenomena
,
Prime
,
Report
,
Sandvine
,
Stream
,
Streaming
,
Traffic
,
U.S.
,
United States
,
Video
,
VOD
,
Worldwide
,
YouTube