TV fans who may be missing their NBC comedies and dramas during the network's primetime coverage of the Winter Olympics can now go online to catch up with some of their favorite characters. NBC has produced four-part digital-only spinoffs of "Chicago Fire," "Grimm," "Parks and Recreation" and "Parenthood." The webisodes are available for streaming via NBC.com, Hulu and YouTube this month while the network continues to cover the Olympics from Sochi.
"We worked closely with the writers on these series and want to give our audience a chance to stay in touch with their favorite shows," said NBC Entertainment EVP Rob Hayes. "These digital series provide a great way to give our loyal audience even more original programming."
"With the exception of 'Parks and Rec,' the digital extensions center around younger, female characters, which speaks to the same demo that NBC is trying to reach with the productions," reports StreamDaily.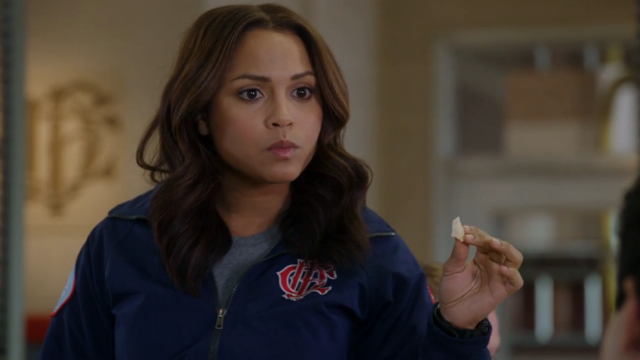 The "Chicago Fire" digital series "I Am A Firefighter" (pictured here) debuted last week, with a focus on paramedic Gabriela Dawson (played by Monica Raymund). "Friday Night at the Luncheonette," based on the troublesome "Parenthood" character Amber Holt (portrayed by Mae Whitman) debuted two days later.
"Of note, executive producer Jason Katims will stage a crossover between his two shows, 'Parenthood' and 'Friday Night Lights,'" explains The Wrap. "In it, Jesse Plemons and Derek Phillips will reprise their 'FNL' roles of Landry Clarke and Billy Riggins, respectively."
The "Grimm" extension "Love is in the Air" debuted on Valentine's Day and revolves around a love spell featuring characters played by Bree Turner and Bitsie Tulloch. Nicholas Peet, a writer's assistant on the show, wrote and produced the webisodes.
"The junior writers really are our point people" for digital content, said Hayes.
"By tapping junior writers to create digital material, NBC is giving them practice runs as TV content creators, while letting senior scribes tackle the on-air realm without the sometimes taxing demand for additional online material," noted Variety in an earlier report. "During creative staff meetings, for example, young scribes tasked with a show's digital presence keep their ears perked for Web inspiration."
NBC will debut "The Hapley Group" on Thursday, a spinoff from "Parks and Recreation" that features newscaster Perd Hapley (played by Jay Jackson) leading a heated, political roundtable discussion.
Topics:
Audience
,
Broadcast
,
Character
,
Chicago Fire
,
Comedy
,
Demo
,
Demographic
,
Drama
,
Episode
,
Fan
,
Grimm
,
Hayes
,
Hulu
,
Katims
,
NBC
,
NBC.com
,
Network
,
Olympics
,
Online
,
Parenthood
,
Parks and Rec
,
Peacock
,
Peet
,
Prime Time
,
Primetime
,
Program
,
Programming
,
Raymund
,
Russia
,
Series
,
Show
,
Sochi
,
Spinoff
,
Stream
,
Streaming
,
Television
,
TV
,
Valentine
,
Variety
,
Video
,
Viewer
,
Webisode
,
Whitman
,
Winter
,
YouTube