3D Systems, provider of 3D printing solutions, and toy and game company Hasbro have announced plans to co-develop creative, immersive play experiences "powered by 3D printing" for children. The partnership aims to commercialize play printers and platforms later this year, combining 3D Systems' printing products with Hasbro's portfolio of consumer brands. 3D Systems has been spending more on R&D, and recently announced plans to partner with Hershey to develop 3D printing tech to produce food items.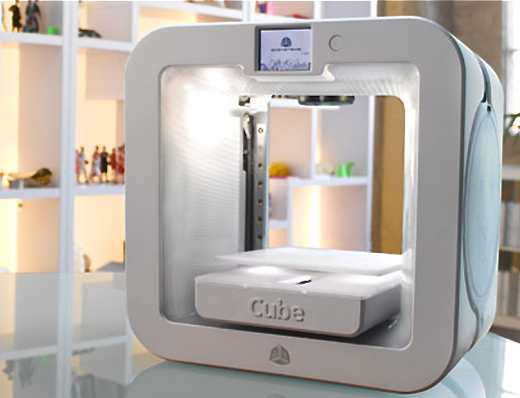 The majority of 3D printing revenue is generated by industrial sales, but consumer solutions are on the rise. We saw an array of compelling products at CES in January.
"In a widely seen report, research firm Gartner Inc. last year said the number of consumer 3D printers globally was set to double and that combined end-user spending on the devices was expected to rise 49 percent during 2013," reports The Wall Street Journal. "However, the figures Gartner cited drew from a relatively small base."
"We believe 3D printing offers endless potential to bring incredible new play experiences for kids and we're excited to work with 3D Systems, a recognized industry leader in this space," said Brian Goldner, president & CEO of Hasbro, according to the co-venture's press release. Avi Reichental, president and CEO of 3DS, added: "We are thrilled to collaborate with Hasbro, a premier, global, branded play company, to jointly define, shape and lead the entire digital play space, powered by 3D printing."
"It will be interesting to see if they can stay ahead of people posting the 3D printer plans online and maker spaces becoming unauthorized distributed print shops," commented ETC staffer Phil Lelyveld, who forwarded us this news.
Topics:
3D
,
3D Systems
,
3DS
,
Brand
,
CEA
,
CES
,
Children
,
Collaborate
,
Commercial
,
Confectionary
,
Consumer
,
Creative
,
Cube
,
Electronics
,
ETC
,
Food
,
Game
,
Gartner
,
Goldner
,
Hasbro
,
Hershey
,
Immersive
,
Industrial
,
Kids
,
Las Vegas
,
Lelyveld
,
Maker
,
Partnership
,
Personal
,
Plans
,
Play
,
Print
,
Printer
,
Printing
,
R&D
,
Reichental
,
Report
,
Sales
,
Shop
,
Show
,
Toy
,
Treat