According to Adobe's 2014 Digital Index Online Shopping data, 29 percent of online sales on Thanksgiving Day and 27 percent on Black Friday took place via smartphones or tablets (led by iOS shoppers). New online sales records were set for both days, while Singles' Day also set a new record and could surpass Cyber Monday this time around. Meanwhile, the CEA reports that consumers are purchasing more TVs, thanks in part to more affordable UHD offerings.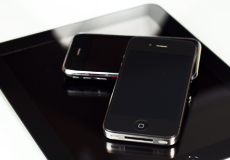 "Between November 1 and November 28, $32 billion have been spent online, 14 percent more than in 2013," explains the Adobe press release. "Thanksgiving Day and Black Friday set new sales records with $1.33 billion and $2.4 billion, respectively."
"For the first time smartphones nearly doubled their share of total online sales on both days. November 11 ('Singles' Day') set a new sales record with $1.29 billion and is expected to surpass Cyber Monday in growth this year. The average order value for sales coming directly from a social network was led by Facebook with $114.45."
Following Facebook was Pinterest with an average order value of $93.20 and Twitter at $90.74.
While tablets saw about a 2 percent increase in online sales year-over-year for the holiday weekend, online purchases made via smartphones nearly doubled. According to findings from Adobe and IBM, iOS users drove nearly four times as much mobile sales revenue as Android users.
"Social media buzz continued to be an early indicator for top gifts," notes the release. "4K TVs saw the biggest jump in social buzz month-over-month (MoM) with social media mentions for Sony and Samsung increasing 350 percent. Fitbit led the wearable device category, which had 100,000 social mentions on Thanksgiving and Black Friday while iPhone 6 continued to lead in the smartphone category."
Carolyn Giardina of The Hollywood Reporter cites the Consumer Electronics Association's Post Black Friday Report, which notes that 45 percent of consumers shopping during the holiday weekend bought or plan to purchase consumer technology.
"Of that group of shoppers, 37 percent went for TVs, up from 27 percent a year ago," she writes. "CEA's chief economist Shawn DuBravac attributed this growth in part to the UHD TV category (which started in 2012) and falling prices of those sets, as well as more promotion around larger TVs and connected TVs."
"Rounding out the top five consumer electronics categories were tablets, with 35 percent (similar to a year ago, when CEA reported 36 percent); video game consoles, with 23 percent (compared with 25 percent in 2013); portable wireless speakers, with 23 percent; and laptops/notebooks, with 21 percent."
Related Stories:
Strong Black Friday Online Sales Give Hope for Big Holiday Numbers, Re/code, 11/29/14
Best Buy Tech Blunder: Site Suffers Outages on Black Friday, Digital Trends, 11/28/14
IBM: Black Friday Online Sales Up 8.5% Over Last Year, 20% of Sales Came from iOS, TechCrunch, 11/28/14
Shopping on a Phone is Still Uncommon but Growing Fast, The New York Times, 11/28/14
Walmart and Target Take Fight to Amazon for Holiday Sales, The Wall Street Journal, 11/28/14
Walmart's Price-Match Backfires as People Use Fake Amazon Listings to Get Super-Cheap PS4s, Digital Trends, 11/20/14
Walmart Tightens Online Price-Match Policy, The Wall Street Journal, 11/19/14
Topics:
4K
,
Adobe
,
Amazon
,
Android
,
Best Buy
,
Black Friday
,
Carolyn Giardina
,
CEA
,
Cyber Monday
,
E-Commerce
,
Facebook
,
Fitbit
,
Game Console
,
IBM
,
iOS
,
iPhone 6
,
Laptop
,
Mobile
,
Notebook
,
Online Sales
,
Pinterest
,
Retail
,
Samsung
,
Shawn DuBravac
,
Shopping
,
Smart TV
,
Smartphone
,
Social Media
,
Sony
,
Tablet
,
Television
,
Thanksgiving
,
Twitter
,
UHD
,
Ultra HD
,
Walmart
,
Wearable
,
Wireless Speaker