DreamWorks Animation is working on new technology that will bring its pre-rendered CGI films to virtual reality headsets like the Oculus Rift and Gear VR. To support headtracking, the company has developed "Super Cinema" technology that pre-renders the entire 360-degree image so that no matter which way a user turns his/her head, the frame is already generated. This technology would allow consumers to have an immersive VR experience even on lower-end hardware.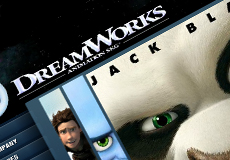 Warren Mayoss, head of technology product development at DWA, revealed some of the company's plans during a presentation at Samsung's 2014 Developer Conference.
DreamWorks has already created some VR content that is real-time rendered, which is standard for most interactive content like video games. However, rendering each frame in response to the user's movement can be a slow process if the graphics are complicated. According to Road to VR, pre-rendering will make the process much faster and the quality of the experience much better.
The 360-degree rendering technology will solve the challenge of supporting headtracking. Headtracking helps tell the software what image to render in real-time, but since the entire view is already rendered, that step is eliminated.
However, there are some minor drawbacks. The file of a Super Cinema film would be huge because it already contains the 360-degree view of the movie. It might also lack positional tracking and IPD, both of which make virtual reality more comfortable.
Positional tracking is the ability to redraw a scene based on how the user's head moves within the 3D space. The IPD, or distance between a person's eyes, also changes based on the user and without real-time adjustments for the individual user, the film could be a disorienting experience.
Mayoss said that DreamWorks is looking beyond home entertainment, including plans to bring VR to DreamPark, the company's upcoming theme park.
"Beyond the theme park, DreamWorks is working on more portable (and probably promotional/marketing type) experiences which was referred to as 'DreamHouse,'" notes Road to VR. "Mayoss teased at SDC that the company was working on a 'retail experience' that will launch this holiday season in eight malls across the United States."
Topics:
360 Degree
,
3D
,
CGI
,
DreamHouse
,
DreamPark
,
DreamWorks Animation
,
DWA
,
Gaming
,
Gear VR
,
Headtracking
,
How to Train Your Dragon
,
Interactive
,
IPD
,
Madagascar
,
Movie
,
Oculus Rift
,
Positional Tracking
,
Production
,
Real Time
,
Rendering
,
Samsung
,
Special Effects
,
Super Cinema
,
Virtual Reality
,
Warren Mayoss