Mark Zuckerberg, who co-founded Facebook in 2004 and is now its CEO and controlling shareholder, announced that the company has changed its name to Meta Platforms Inc. (doing business as Meta), reflecting its pursuit of growth opportunities in the VR and AR realms known as the metaverse. As of December 1, the company will trade as MVRS on the Nasdaq exchange, retiring the FB ticker symbol that took a long ride from a first-day close of $38.23 per share on May 18, 2012, to close at $316 on October 28, the day Zuckerberg announced the new name at the Facebook Connect developer's conference.
The new Meta umbrella — which also encompasses Instagram, WhatsApp and other Facebook-owned units — is seen as a way for Zuckerberg to create cover for himself and the firm amidst the hailstorm of criticism unleashed by whistleblower documents that allegedly show the social media behemoth puts profits above public safety.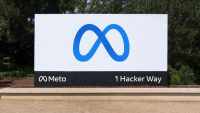 The change also reflects substantial investment and what appears to be genuine interest in a new kind of digitized social interaction, the metaverse, where gaming and virtual events will take place. The metaverse is an opportunity for the company to regain interest among younger users.
On an October 25 earnings call, Zuckerberg said his company was retooling "teams to make serving young adults their North Star." He also shared his future vision: "If you're in the metaverse every day, then you'll need digital clothes, digital tools, and different experiences. Our goal is to help the metaverse reach a billion people and hundreds of billions of dollars of digital commerce this decade."
Facebook has already made substantial investments in the new kind of shared reality endemic to the metaverse, notably the Oculus Quest VR headset and the Reality Labs research initiative. In a post, company CTO Andrew Bosworth said the company will phase out the Oculus name, and the goggles will be known as Meta Quest. Zuckerberg said on the earnings call that Reality Labs, which focuses on virtual-reality and augmented-reality offerings, will become a separate reporting unit.
"We believe the metaverse will be the successor to the mobile Internet," Zuckerberg said in his keynote speech at Connect.
The Wall Street Journal notes that companies including Microsoft, Nvidia, Unity and others are also investing in products, tools and services for the metaverse, noting "some early iterations of the metaverse already exist." Companies such as Epic Games and Roblox "have hosted virtual concerts with millions of attendees who appeared as avatars. Similarly, virtual-reality applications such as 'Rec Room' and 'AltspaceVR' let people socialize as avatars. Some tech-industry forecasters have said in the future such experiences will evolve to become almost lifelike."
The New York Times suggests that Meta is the writing on the wall for Facebook: "Last year, it released its newest virtual-reality headsets, the Oculus Quest 2. In August, it unveiled virtual-reality service called Horizon Workrooms, a virtual meeting room where people using the virtual-reality headsets can gather as if they were at an in-person work meeting. And in September, it announced a new line of eyewear with Ray-Ban, which can record videos."
Related:
Look Over Here, Kids, It's the Metaverse, Wired, 10/28/21
The Metaverse Is Mark Zuckerberg's Escape Hatch, The New York Times, 10/29/21
'Project Cambria' Is a High-End VR Headset Designed for Facebook's Metaverse, TechCrunch, 10/28/21
Facebook Teases Polar, a Mobile App for Creating AR Filters, TechCrunch, 10/28/21
Grand Theft Auto: San Andreas Is in Development for Oculus Quest 2, TechCrunch, 10/28/21
This Company Is Making Digital Humans to Serve the Metaverse, The Verge, 10/27/21
Topics:
AltspaceVR
,
Andrew Bosworth
,
Augmented Reality
,
Concert
,
Epic Games
,
Facebook
,
Facebook Connect
,
Gaming
,
Horizon Workrooms
,
Instagram
,
Internet
,
Mark Zuckerberg
,
Meta
,
Meta Quest
,
Metaverse
,
Microsoft
,
Nvidia
,
Oculus
,
Oculus Quest 2
,
Ray-Ban
,
Reality Labs
,
Rec Room
,
Roblox
,
Unity
,
Virtual Reality
,
Wearable
,
WhatsApp