The first Amazon-branded televisions are now available. The Amazon Fire TV 4-Series models start at $370, while the Amazon Fire TV Omni Series — which come Alexa-enabled for voice control — start at $410 for a device marketed as an all-in-one entertainment solution for streaming, subscription TV, gaming, music and more. Amazon's branded TV launch comes as Comcast throws its hat in the ring with its XClass sets built by Hisense. They join an already vibrant field, with players including Apple, Google, Roku, TCL, Samsung, LG and Vizio competing for market share.
The idea seems to be claiming real estate in the operating system, using the sets to steer viewers to specific content while collecting their data to serve ads for additional revenue.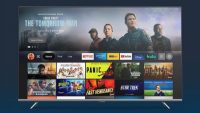 Riffing on "the battle for control of the connected TV landscape amongst tech giants, operators and streamers," TV Tech writes that "those added revenues are important given the low profit margins for TV manufacturers and a way of differentiating products in an already crowded smart TV sector. But ability of companies to control access to smart TVs has also produced some heated conflicts over content between players like YouTube, Roku, HBO Max and others."
The value-priced Amazon Fire TV 4-Series comes in 43-inch, 50-inch or 55-inch sizes that support 4K Ultra HD, HDR10, HLG and Dolby Digital Plus. It comes with a Fire TV Alexa Voice Remote that requires you to press a button before you ask it to find apps, movies, TV shows, weather, sports scores and more.
The Amazon Fire TV Omni Series has Alexa built into the set, which you speak to directly, no clicks required. It comes in two additional sizes that have Dolby Vision, a 65-inch ($830) and 75-inch ($1,100) model.
"The goal of the TV is to make living rooms smarter" through ambient computing, CNBC says, citing Amazon Fire Omni TV Series product manager Jason Parrish. The more expensive Omni Series has generated about two-thirds of Amazon TV pre-orders. "Seemingly, Amazon fans like the idea of talking to their televisions," CNBC notes.
Amazon has been selling Fire TV Sticks and Fire TV Cubes for use with third-party sets, and has also partnered with manufacturers that integrate Fire TV software. This marks Amazon's move into branded TVs manufactured to Amazon specs. The company also has its name on hardware including tablets, e-readers and smart speakers, which CNBC says, "helps bring people right to its storefront and its ecosystem of ads and services."
Related:
Amazon's New TVs Will Soon Support Apple AirPlay 2 and HomeKit, The Verge, 10/27/21
Comcast Launches Smart TV for U.S. Market in Bid to Take on Roku, Amazon, The Wall Street Journal, 10/19/21
Topics:
4K
,
Advertising
,
Alexa
,
Amazon
,
Amazon Fire TV 4-Series
,
Amazon Fire TV Omni Series
,
Apple
,
Comcast
,
Dolby Digital Plus
,
Dolby Vision
,
Fire TV Cube
,
Fire TV Stick
,
Gaming
,
Google
,
HBO Max
,
HDR10
,
Hisense
,
HLG
,
Jason Parrish
,
LG
,
Music
,
Roku
,
Samsung
,
Smart TV
,
Streaming
,
TCL
,
Television
,
Vizio
,
Voice Control
,
XClass
,
YouTube