The global computer chip shortage is worsening and expected to extend through next year, with longer delays for receipt of orders, rumors of hoarding and companies like Amazon and General Motors reporting lower than expected sales as a result of products or parts being unavailable. Apple warns that supply-chain disruptions negatively impacting manufacturing of iPhones and other products could affect the holiday shopping season. With semiconductors integral to making everything from televisions to washing machines, production shortages are creating myriad problems for factories already running at full capacity.
The smartphone industry is tracking to grow by only 6 percent year-over-year, which is half the initial forecast, a slump attributable to chip woes, according to sales information tracked by Counterpoint Research.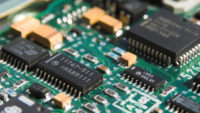 Intel's Q3 earnings, released last week, repeatedly reference component shortages, which CEO Pat Gelsinger said he expects to continue to 2023. "Trust me, we would be shipping a lot more if we weren't constrained by the supply chain of these other components in the industry," Gelsinger said on the company's earnings call, according to The Wall Street Journal.
Over the summer, wait times for chip deliveries "stretched to 19 weeks on average," according to Susquehanna Financial Group data reported in WSJ, which says that as of October, the wait stretched to 22 weeks. "It is longer for the scarcest parts: 25 weeks for power-management components and 38 weeks for the microcontrollers that the auto industry needs," WSJ says, adding that some chip seekers ordering now are being given delivery dates in 2024.
WSJ pegs the global semiconductor industry at $464 billion, but says the inability to meet demand is resulting in "lost revenue across the board," with pain extending beyond the obvious categories — like automakers and appliance manufacturers — to hit categories like medical devices and tobacco.
Last week, General Motors and Ford Motor Co. both reported steep declines in third-quarter profits as a result of product delivery issues impacted by the chip shortage.
Amazon, too, posted lower-than-expected Q3 sales "as labor and supply-chain challenges pushed costs up $2 billion and have made it harder to meet demand," as detailed in a separate WSJ article that explains the COVID-9 pandemic "lifted the businesses of tech giants in its early stages because people who stayed at home during lockdowns needed more of their products. But as the pandemic's economic disruption has dragged on, it us creating problems that even the strongest companies are struggling to reckon with."
Related:
U.S. Says It's Working with Taiwan to Secure Chip Supply Chain, Bloomberg, 10/29/21