The Walt Disney Company's Marvel Entertainment inked a deal with SiriusXM to create exclusive podcasts for the latter's satellite radio and streaming services, including Pandora. This is SiriusXM's first major effort in podcasting and is also an attempt to attract more listeners. The deal comes at a time that many media companies are taking their first steps into podcasting. Disney has also focused on expanding Marvel out of big movie theaters and into broadcast television and its Disney+ streaming service.
The Wall Street Journal reports that "the multiyear deal will kick off in 2020 with four new scripted series based on the Wolverine, Hawkeye, Black Widow and Star-Lord characters, and a fifth series in which all four team up." Marvel Entertainment president Dan Buckley called audio "the next natural step to bring the Marvel Universe to fans around the world."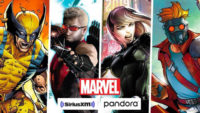 Marvel and SiriusXM also plan to create unscripted podcasts on Marvel history and talk shows, "including an interview segment featuring celebrity guests." The podcasts will be exclusive to SiriusXM, whose service costs $8 to $21 per month, and the free, ad-supported Pandora.
Spotify bought three podcast companies this year, and also inked a deal with "the entertainment production company started by Barack and Michelle Obama to develop and produce podcasts exclusive to the streaming service." Entercom Communications, iHeartMedia and PRX have also doubled-down on podcasting.
WSJ notes that "SiriusXM has waded into the medium with a similar approach to its satellite radio service, focusing on big brands and talent." One example is "17 Weeks," a weekly football podcast created with LeBron James and Maverick Carter's company Uninterrupted. It has also produced a podcast with Wu-Tang Clan to accompany the rap group's original series on Hulu.
Pandora has only 5,000 podcasts compared to the "vast libraries" of more established players. But SiriusXM's strategy is to build "a more curated approach with a focus on recommendations." The Interactive Advertising Bureau and PricewaterhouseCoopers stated, "U.S. ad revenue from podcasts climbed 53 percent to $479 million last year … and is expected to rise to $678.7 million this year and to top $1 billion by 2021."
Edison Research said that, as of last year, 50 percent of Americans over 12 years old have heard a podcast, and 32 percent of the population (about 90 million people) are monthly podcast listeners.
Topics:
Audio
,
Barack Obama
,
Dan Buckley
,
Disney
,
Disney Plus
,
Edison Research
,
Entercom Communications
,
Hulu
,
IAB
,
iHeartMedia
,
LeBron James
,
Marvel
,
Maverick Carter
,
Michelle Obama
,
Pandora
,
Podcasting
,
Podcasts
,
PricewaterhouseCoopers
,
PRX
,
Satellite Radio
,
SiriusXM
,
Spotify
,
Streaming
,
Uninterrupted
,
Wu-Tang Clan