As the Renaissance was a reaction to the Dark Ages that preceded it, so too the entertainment industrial complex finds itself on the brink of a fruitful new era of technological and creative achievement triggered by COVID-19. The need for remote production has encouraged a cross pollination of new tools and techniques that will likely lead to significant change in the next era of media production. Roaring back to an in-person event in Rancho Mirage last week after hosting a virtual summit in 2021, the HPA Tech Retreat 2022 showcased the groundbreaking exchange between content-makers and tech providers.
From newer companies like Mo-Sys and Disguise to industry bedrocks like Sony and ARRI, nearly 100 firms showcased their wares in demos and educational sessions for a sold-out crowd of about 700 industry attendees at the Westin Mission Hills Golf Resort & Spa. The audience — representing more than 325 companies — explored the future of entertainment while helping the HPA celebrate its 25th year.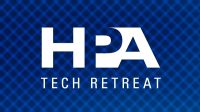 Emphasis on virtual production and cloud storage illustrates how far the industry has come. The sessions took place in a conference room with three LED volume installations.
"Each could potentially perform a different function," said Kari Grubin, who along with the ETC@USC's director of adaptive and virtual production Erik Weaver co-produced the day-long session, "Immerse Yourself in Virtual Production."
"This was a chance to see three working environments in an educational environment. To my knowledge, nothing like it has been done outside of a trade show," explained Grubin, project director of the SMPTE Rapid Industry Solutions On-Set Virtual Production Initiative.
Each volume was created by companies working in partnership, another theme at the event. "It takes the whole village to make this stuff work," said Colin McDonald, a product manager at Teradek. "We have a collaboration with Mo-Sys to integrate our RT Wireless Lens Control with their ecosystem. There's no sole answer to virtual production."
Among the noteworthy technologies at the HPA Tech Retreat:
Sony Crystal LED — Sony showcased its super-sized ZRD-2 CLED display solutions, which feature "an array of ultrafine LED elements, each one half the thickness of a human hair." Sony also utilized its Bravia 4K monitors and new Venice 2 cameras, available with either 6K or 8K sensors.
Unreal Engine — Epic Games' Unreal Engine is a go-to for filmmakers to drive real-time virtual environments, as seen in "The Mandalorian" on Disney+ and HBO's "Westworld." It drove the virtual scene in a volume that used AOTO Pixel Pitch2.3z LEDs, ARRI cameras and a Brompton controller. Epic is getting ready to ship the commercial version of Unreal 5, now in preview.
MetaHuman Creator — Unreal's digital human creation software, announced in early 2021, is generating buzz in early-access release. Super Session presenter Tom Thudiyanplackal, virtual production producer of ETC@USC's "Fathead" calls MetaHuman "a big gift" to filmmakers as well as game developers in that it "natively comes fitted with an extensive rig that make it possible to animate these characters with a high level of precision."
Disguise — Specializing in the display of intricate visuals on complex video surfaces, Disguise provided playback for two of the three LED volumes. "When ready, a project can be effortlessly loaded onto a Disguise media server and played back at any scale," notes the company's website. Disguise also has an extended reality (XR) stage in Los Angeles.
Mo-Sys — The London-based firm is a leader in 3D camera tracking systems, an essential component in VP, where integrating live and LED elements is critical in merging the two worlds with convincing depth. Mo-Sys participated in one of the three LED volumes and was on display in the Innovation Lab. In November, the company opened the Mo-Sys Refinery in Hawthorne, a place to test virtual production concepts with both a greenscreen and LED volume under one roof.
Teradek — The company has a platform that live-streams at up to 4K HRD to an Android or iOS mobile device or Apple TV anywhere in the world. All you need is one of Teradek's encoders coupled with its Core cloud-based software. Invented for Twitch and YouTube creators, Teradek's live-streaming solution has become indispensable to storytellers of all types.
Finding connectors — in terms of language and technological interoperability — was a recurring theme. M&E consultant James Blevins, chairman of the Tech Retreat's Innovation Zone, underscores the complex ontologies at play, pointing out workflow is no longer a static document, but "something that is actually calling out to products and services."
Epic Games senior software engineer Rod Bogart was challenged to bring the stakeholders to common ground with his keynote, "Virtual Production: What's the Story?"  Emphasizing the evolution from traditional to virtual production, Bogart walked attendees through the unique aspects and history of VP, including previs, techvis, virtual camera scouting, real-time collaboration and in-camera visual effects.
Bogart encouraged attendees to use the day's Super Session programming to learn where they might contribute. "The scope of virtual production is as large as production itself," Bogart said. "And the story of virtual production is just getting started."
Topics:
Apple TV
,
ARRI
,
Bravia
,
Brompton Technology
,
Cloud
,
Colin McDonald
,
COVID-19
,
Disguise
,
Disney Plus
,
Epic Games
,
Erik Weaver
,
HBO
,
HPA Tech Retreat
,
James Blevins
,
Kari Grubin
,
MetaHuman Creator
,
Mo-Sys
,
Rod Bogart
,
SMPTE
,
Sony
,
Teradek
,
The Mandalorian
,
Tom Thudiyanplackal
,
Twitch
,
Unreal Engine
,
Virtual Production
,
Westworld
,
YouTube