Google has now shipped 10 million Cardboard VR sets. That's double the number Google had shipped from the device's launch in 2014 to July of last year. Meanwhile, the company is also pushing its next generation of VR devices like the Daydream View headset. The variety of phones and content for the platform are continuing to expand, and current users are already watching an average of 40 minutes per week. Google is working with content partners such as Hulu, Netflix and HBO.
Google will continue to develop and distribute Google Cardboard alongside its Daydream technology. Currently, there are 30 individual Cardboard apps that have been downloaded a total of 160 million times.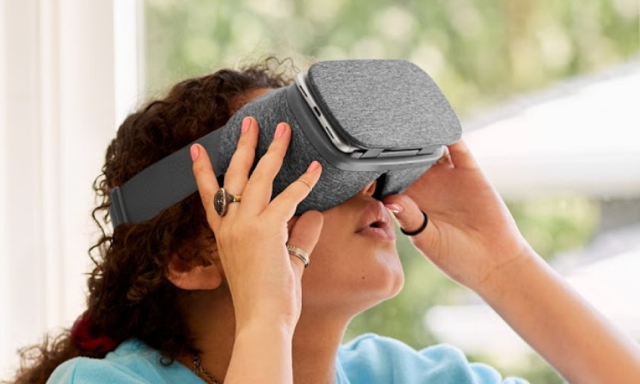 The Daydream (above) is a more immersive experience that builds upon what Google learned from Cardboard. Like the Google Cardboard, the Daydream utilizes a phone to display the VR. Daydream is now compatible with six different Android phones. A majority of the content consumption on Daydream involves YouTube videos.
However, Google is working to get more professional content on the 100 Daydream apps. European pay-TV provider Sky has signed on to produce primary films and original series for Daydream. Some of the experiences include a red carpet show and Sky Sports programming with soccer star David Beckham, reports TechCrunch.
Google has also been adding new content to its Tango AR platform. For example, The Wall Street Journal created a stock market trends visualization, while the Chelsea Kicker app brings Chelsea football players into the user's world.
Topics:
Alphabet
,
Android
,
Apps
,
Augmented Reality
,
Cardboard
,
Chelsea Kicker
,
David Beckham
,
Daydream
,
Daydream View
,
Europe
,
Google
,
Google Cardboard
,
HBO
,
Hulu
,
Mobile
,
Movies
,
Netflix
,
Original Content
,
Pay TV
,
Sky
,
Sky VR Studio
,
Smartphones
,
Sports
,
Tango
,
The Wall Street Journal
,
TV Shows
,
Video
,
Virtual Reality
,
VR Headsets
,
YouTube