Boston Dynamics, a robotics company owned by Google's parent Alphabet, has introduced a robot that is making leaps and bounds in the industry — literally. Handle, as the robot is called, can jump over obstacles, go down stairs, and lift objects up to 100 pounds. The impressive machine has two legs with wheels that allow it to move fluidly. Unlike other robots that generally move slowly and deliberately, Handle can use its momentum without losing control to get around more easily.
Robotics experts say they've never seen anything like Handle. "This is one of the most remarkable robots I have seen in a long time," said Siddhartha Srinivasa, a professor of computer engineering at Carnegie Mellon. "Boston Dynamics is truly the Apple of robotics, when it comes to tightly integrating hardware design with software and artificial intelligence."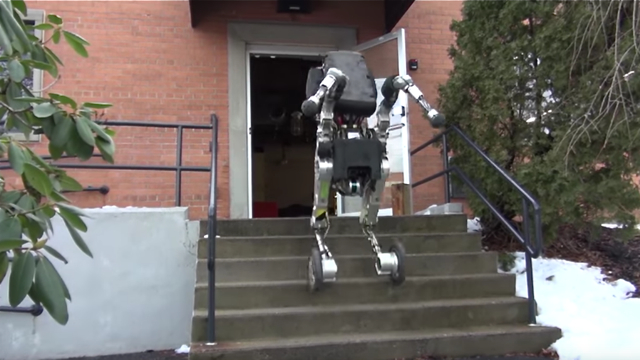 Google purchased Boston Dynamics in 2013, but Alphabet put the firm up for sale last year. The team at Alphabet described the robots as "terrifying." Alphabet still has not found a buyer, but the Boston Dynamics team has continued innovating.
Handle is unique in its movement, which requires special algorithms to be able to power the dynamics. It can also carry objects that are comparable with its own weight, according to Recode. That could be a huge asset for companies that might use the Handle robots in factories or warehouses someday.
Boston Dynamics hasn't indicated what it has in mind for the robot's practical applications. Handle will likely make its way into the workplace after its perception and control features are fine tuned. The key to making the robot a safe addition to a factory or warehouse is creating ways for it to communicate clearly with humans.
Check out the Handle in action in this video from Boston Dynamics.