Nintendo just released Switch, a new console that combines mobile and home gaming. A tablet with wireless controllers that can be used anywhere, the Switch is aimed at enabling inventive software that will help distinguish it from its rivals. Unlike past platforms, the Switch was created without the direct participation of Super Mario and Wii veterans Shigeru Miyamoto, Genyo Takeda and their team. Shinya Takahashi, who oversaw its development, says the Switch comes loaded with capabilities allowing a variety of content.
Bloomberg reports that investors are iffy on Switch's prospects. Concerned about the risk, Nintendo shares plummeted 11 percent since mid-October, when the Switch was announced, and hasn't recovered even after more details were released in January.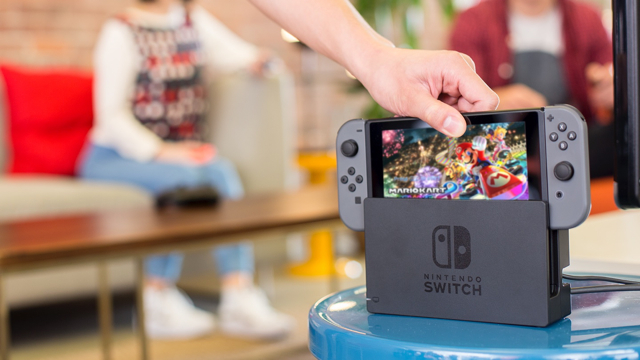 The lack of confidence is due in part to the failure of Wii U, Nintendo's last console, and the "shaky start" of its games for mobile devices. Skeptics are concerned that users are accustomed to playing games on smartphones and TVs and may not be attracted to a "combined experience."
The Switch also emphasizes playing face-to-face, which "goes against today's dominant trend of online multiplayer gaming and streaming, which are more focused on remote digital interaction between people." Takahashi acknowledges the risks but adds that, "decisions previously made by senior people were entrusted to a young group closer to the front line. This created an environment where younger staff could share their opinions."
The $299 Switch comes with lots of features, "from heart-rate sensors to high-definition vibration mechanics." Some gaming reviewers, says Bloomberg, have reported "connectivity problems with its Joy Con controllers," but others praise the seamlessness of the TV/mobile modes and its "more adult-oriented" design, as well as two controllers. In the future, the console may also be connected to a head-mounted display for virtual reality uses.
The Wall Street Journal reviewer enthuses that the Switch "lets me play beautiful games on a big-screen TV, then take those same games on the go," praising the new console's hardware as "ingenious."
"The best part is that these different modes don't feel like compromises," he writes. "The Switch feels just as right when you're playing on TV as it does as a handheld." WSJ also gave a thumbs-up to the Joy-Cons as "fantastic controllers," only bemoaning the fact that, "the console feels incomplete at launch without a strong lineup of games."
What is available is "1-2 Switch," made up of 28 mini-games, "mostly designed so you look at your fellow players instead of the screen," and some of which "take advantage of the Joy-Cons' amazingly precise vibrating motors, which Nintendo calls HD Rumble." The mini-games do not come bundled with the console, a lost opportunity, says the reviewer, because the games' "mainstream appeal" could boost the new console's popularity.
The other major release for the Switch is "Breath of the Wild," a "Zelda" game with about 15 hours of gameplay, and "one of the best 'Zelda' games ever" that showcases the console's portability. Otherwise, says WSJ, the new game line-up is thin until April 28 when "Mario Kart 8 Deluxe" arrives. By the holiday season, Nintendo plans to release "Super Mario Odyssey" and "Splatoon 2."
Topics:
Game Console
,
Gaming
,
Genyo Takeda
,
HD Rumble
,
Head-Mounted Display
,
Joy-Con
,
Mario Kart 8 Deluxe
,
Mobile Games
,
Nintendo
,
Sensors
,
Shigeru Miyamoto
,
Shinya Takahashi
,
Splatoon 2
,
Streaming
,
Super Mario
,
Super Mario Odyssey
,
Switch
,
Tablet
,
Vibrations
,
Video Games
,
Virtual Reality
,
Wii
,
Wii U
,
Zelda: Breath of the Wild