Google teamed with Lenovo to launch a new standalone VR headset with specialized cameras that intends to reach beyond gaming. The new Lenovo Mirage Solo, on display at CES this week, features VR180 cameras designed to encourage users to capture 360-degree video. Google hopes this will help ramp up the current lack of VR content. The headset runs Daydream and is designed to interact with Google services such as YouTube and digital maps. The Mirage Solo touts displays that do not blur during user movement, and does not require a PC or smartphone. It is expected to ship by Q2 2018 for less than $400.
The Mirage Solo has sensors built into the headset and "will have a 'casting' option so you can stream what you're seeing to a TV," according to CNN. The VR180 camera is designed "specifically for capturing wide-angle scenes in 4K to play on VR headsets."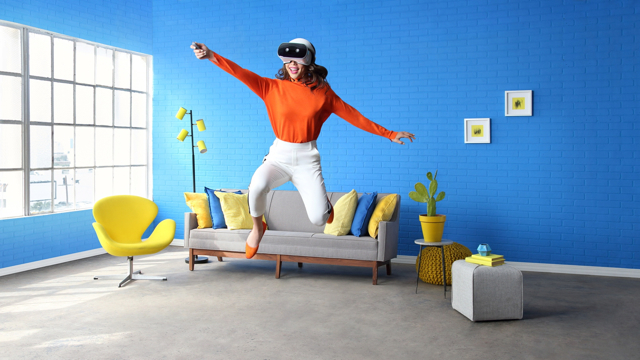 "Watching VR180 gives such a strong sense of presence that it's almost like having a time machine that lets you be there all over again," said Google exec Clay Bavor.
The all-in-one device, the first Daydream headset to feature Google's WorldSense tech for positional tracking, is "powered by a Qualcomm Snapdragon 835 processor," notes Engadget. The Mirage Solo includes 4GB of RAM, 64GB of storage, and a microSD card slot. "You'll need to wear headphones in order to hear audio — there's no speakers here — but thankfully there's a 3.5 mm headphone jack on the side."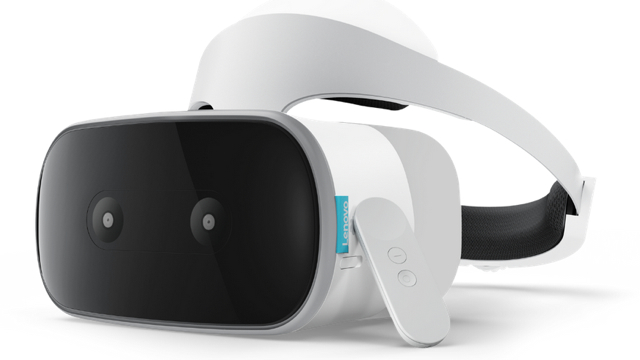 "In VR, Google is competing with Facebook Inc. to become the go-to media provider," reports Bloomberg. "Broader use of VR headsets, beyond gaming, won't come until 2021, according to an analysis from Bloomberg Intelligence. Many analysts expect the market for augmented reality devices — which overlay digital images on the physical world — to eventually outpace VR."
For more details and images, visit the Lenovo blog.
Topics:
360 Degree
,
4K
,
Alphabet
,
Apps
,
Augmented Reality
,
Bloomberg Intelligence
,
Cameras
,
CES 2018
,
Clay Bavor
,
Digital Maps
,
Displays
,
Facebook
,
Gaming
,
Google
,
Headphones
,
Las Vegas
,
Lenovo
,
microSD
,
Mirage Solo
,
PC
,
Qualcomm
,
Sensors
,
Smartphones
,
Snapdragon
,
Television
,
Video
,
Virtual Reality
,
VR Headsets
,
VR180
,
WorldSense
,
YouTube