At this week's F8 developer conference in San Francisco, Facebook announced that it is opening up its Messenger app with a platform for creating apps. This will allow developers to build apps that can integrate with the social network's instant-messaging service, which presently touts 600 million users. Nearly 50 integrated apps have been created under the program, including those from Bad Robot, ESPN and The Weather Channel. The service also supports 360-degree video with Facebook's Oculus VR format.
Facebook demonstrated apps that convert text messages into songs, send animated GIFs to express moods, and more.
"Until now, we have focused on improving Messenger by building all of these features ourselves," Facebook's Mark Zuckerberg told developers. "We're really excited about what you all are able to do with these fast and simple tools we are rolling out."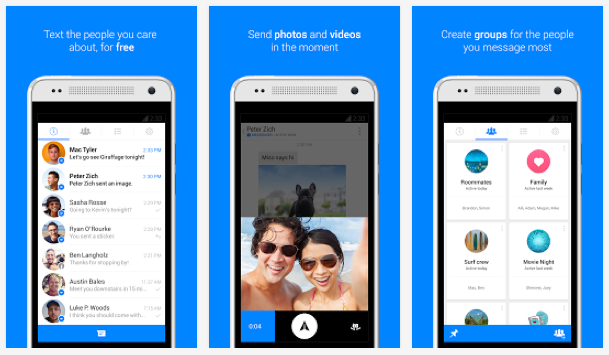 Last week, the social network added a payment feature to Messenger for sending money to friends, which will likely expand to purchases from businesses. At F8, the company explained it plans to test a system for Messenger that would enable businesses to offer personalized customer service following purchases.
"For example, a person might be able to use Messenger to change the color of a shirt in an order or see where a package is in the UPS delivery system," reports The New York Times. "Facebook's initial partners are the clothing retailers Zulily and Everlane, but the company also hopes to lure other types of businesses, such as airlines and cable companies, that frequently face customer service issues."
Facebook's latest plans could help the company generate revenue from additional services, similar to the successful models seen with popular Asia-based messaging platforms WeChat and Line. WeChat, for example, includes a complete payment platform, and integrates with other apps that enable its 500 million users to check into hotels, schedule medical appointments, pay school tuition, and much more.
"That contrasts with the big American players in messaging, which besides Facebook include Apple with its iMessage, Google with Hangouts and Microsoft with Skype, which have done little to move beyond video conversations," notes NYT. So far, these largely free communication tools have yet to leverage effective business models.
Related Stories:
Messaging Apps Offer Do-It-All Services in Bid for Higher Profits, The New York Times, 3/26/15
Facebook Takes Aim at Google's Ad Tech Clout With LiveRail, The Wall Street Journal, 3/25/15
Facebook Unveils Immersive 360-Degree Video for News Feeds, Wired, 3/25/15
Topics:
Airlines
,
Animated GIF
,
Apple iMessage
,
Apps
,
Bad Robot
,
Cable
,
Chat
,
Customer Service
,
Developers
,
E-Commerce
,
ESPN
,
Everlane
,
F8
,
Facebook
,
Google Hangouts
,
Instant Messaging
,
Mark Zuckerberg
,
Messenger
,
Oculus
,
Payments
,
Retail
,
San Francisco
,
Skype
,
Social Media
,
Text Message
,
The Weather Channel
,
UPS
,
Video
,
VR
,
Zulily