Facebook is introducing its tool for sharing live video to a small group of U.S. iPhone users, four months after it was initially debuted by several celebrities and public figures. It differs from its closest competitors, Meerkat and Twitter's Periscope and Meerkat, in that the videos are only available to a small group of approved viewers, and replay videos are automatically saved and permanently visible. Facebook positions its video feed as ideal for personal and family events, rather than the breaking news featured on other sites.
According to The Wall Street Journal, "Facebook's news feeds are now filled with videos, including clips that automatically play," and "it's been a gold mine." The Facebook user creates a live stream as a status update, tapping an icon where he would add a photo or tag a person. Facebook shows how many people are following a video, and allows real-time commenting, and the ability to subscribe to a feed. The person posting the video can also delete it.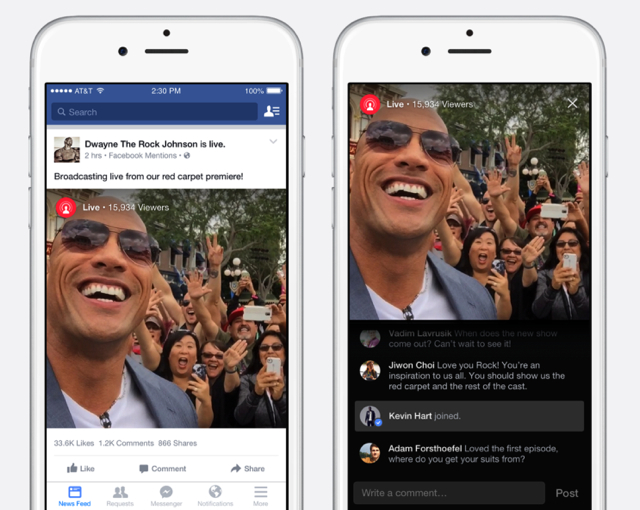 TechCrunch reports that product managers Vadim Lavrusik and Thai Tran called the expansion of Live as part of Facebook's push "to help friends and family feel like they're in the moment with you." Facebook also debuted Collages, another new sharing format that lets the user post multiple photos and videos as tiles, with options to resize each white-bordered tile. Collages is now available for iOS and will be available for Android next year.
"Both Live and Collages show Facebook's willingness to adopt whatever sharing mediums are popular in order to stay relevant, no matter whether it's criticized for copying," says TechCrunch, which notes that Facebook is also testing a new drop-down menu that lets the user choose between different content types.
"Facebook is betting that putting Live broadcasting and viewing abilities where people already spend more time on mobile than anywhere else will let it leap-frog Twitter." Meanwhile, however, Periscope's popularity has turned it into a verb meaning "to mobile live stream."
Topics:
Android
,
App
,
Breaking News
,
Broadcasting
,
Celebrities
,
Collages
,
Facebook
,
Facebook Live
,
iOS
,
iPhone
,
Live Streaming
,
Meerkat
,
Menu
,
Mobile
,
Mobile App
,
News Feed
,
Periscope
,
Photo
,
Replay
,
Sharing
,
Social Media
,
Thai Tran
,
Tile
,
Twitter
,
United States
,
Vadim Lavrusik
,
Video