Facebook is interested in global live-streaming rights to "Thursday Night Football" as well as a selection of the National Football League's 2016-17 games, say sources knowledgeable about the Silicon Valley company's plans. If Facebook succeeds in obtaining those rights, it will be its first major TV content deal and would mark a departure from its video strategy thus far, which has focused on short-form for the last two years. As Facebook Live has become more of a priority, sports have shifted to the fore.
According to Variety, the sector is already big on Facebook, which estimates 650 million of its users worldwide are sports fans. Variety notes that, "the NFL games also would dovetail very nicely with the recently launched Facebook Stadium, a hub that aggregates content and fan discussion about live sporting events."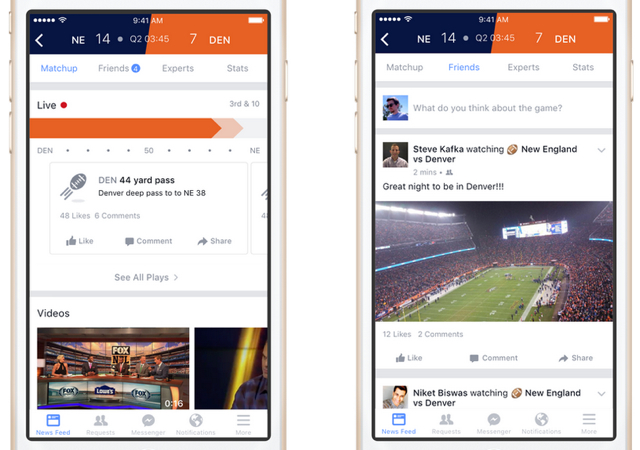 But a bid for the NFL games, says Manatt Digital Media Ventures chief executive Peter Csathy, "is a clear signal that it is moving beyond pure (user-generated content) with a goal of becoming a full-fledged media company."
According to Dan Rose, Facebook's VP of partnerships, the social network is in talks with the NFL about streaming games and possibly introducing additional pre- and post-game content from the locker room, the field and behind the scenes.
"We're talking to a lot of folks about live (video)," Rose told Variety yesterday. "There are a ton of types of content that can fit under this format."
One caveat, however: Verizon Wireless already has mobile rights to NFL games for at least one more year, which would lower the value of those rights to Facebook. Internet, connected-TV and tablet rights are in play, but Facebook has to decide if there's enough value of going after rights that don't include mobile.
In fact, NFL rights are split among many entities. The NFL has sold the U.S. "Thursday Night Football" TV rights to CBS and NBC, which have five games apiece. NFL Network is broadcasting eight other Thursday night games, late-season Saturday match-ups and other games. All those networks own the rights to stream the games to U.S. pay TV subscribers on an authenticated basis.
Furthermore, Verizon wants "TNF" games for its free, ad-supported go90 mobile video service, and CBS is in talks with the NFL about distributing games to its CBS All Access subscription-streaming service starting next season. Another source says Yahoo is also interested in the "TNF" rights, but isn't likely to make the final cut.
The rumors of impending NFL games also has synergies with recent Facebook executive meetings in Hollywood to encourage celebrities and media firms to use Facebook Live, thus expanding the company's profile in live video. One recent success was the Academy of Motion Picture Arts & Sciences using Facebook Live to provide red carpet and backstage coverage of this year's Oscars.
Topics:
AMPAS
,
CBS
,
CBS All Access
,
Connected TV
,
Dan Rose
,
Facebook
,
Facebook Live
,
Facebook Stadium
,
go90
,
Internet
,
Live Sports
,
Live Streaming
,
Manatt Digital Media Ventures
,
Mobile
,
NBC
,
NFL
,
NFL Network
,
Pay TV
,
Peter Csathy
,
Social Media
,
Sports
,
Streaming Services
,
Tablet
,
Television
,
Thursday Night Football
,
User-Generated Content
,
Verizon Wireless
,
Yahoo